Alvear Pedro Ximenez Solera 1927 NV (6x37.5cl)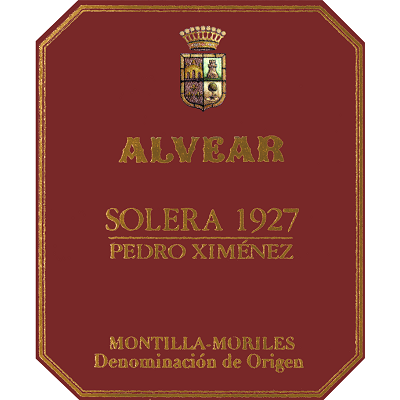 Alvear PX Solera 1927 is a sweet wine from the Montilla-Moriles region of Andalusia in southern Spain. It is produced by the Alvear winery, made using only Pedro Ximénez grapes (the 'PX' in the name). Intriguingly, Pedro Ximénez is native to the Rhine, in Germany, but has adapted perfectly to its Andalusian environment.
The 'PX' grapes are harvested normally and are then laid out on mats to dry in the sun until they become desiccated and raisin-like. The dried grapes are then pressed, to deliver an intensely rich juice, which is aged American oak barrels five years. The "Solera system" is then used, under which new wine is added to the top of a stack of barrels to allow old wine to be removed from the bottom. So at least some of the wine in Alvear PX Solera 1927 is pushing 100 years old!
Bodegas Alvear have been making wine in Montilla-Moriles for almost 300 years, and today are in possession of some of the oldest Soleras in the region.
The Alvear Solera 1927 is a huge favourite of Cru staff and clients alike. This wine has great balance. As Robert Parker writes: "Huge and viscous, yet neither cloyingly sweet nor heavy, it is a profound effort priced unbelievably low."
Why is it so cheap? We don't know. We are just delighted that it is!
The impressive 1927 Pedro Ximenez Solera, from a Solera begun nearly 80 years ago, boasts a dark amber color as well as an extraordinary nose of creme brulee, liquefied nuts, marmalade, and maple syrup. Huge and viscous, yet neither cloyingly sweet nor heavy, it is a profound effort priced unbelievably low. It is meant to be drunk alone at the end of a meal.

Reviewer Name: Robert Parker

Review Date: 30th June 2005

How can this possibly be so cheap for a wine with components this old and so luscious? As you might expect, extremely sweet. A mid-brown, viscous elixir of alcoholic liquidised raisins. Rich, thick and perfect for anything full of dried fruit such as traditional Christmas pudding, or poured over the best vanilla ice-cream you can find.

Reviewer Name: Julia Harding MW

Review Date: 23rd May 2016
Details

Year

NV

Colour

NA

Country

Spain

Region

Andalucia

Sub Region

Jerez

Designation

Classification

Pack Size

6x37.5cl

ABV

16°

LWIN

119535210000600375

Reviews (2)

The impressive 1927 Pedro Ximenez Solera, from a Solera begun nearly 80 years ago, boasts a dark amber color as well as an extraordinary nose of creme brulee, liquefied nuts, marmalade, and maple syrup. Huge and viscous, yet neither cloyingly sweet nor heavy, it is a profound effort priced unbelievably low. It is meant to be drunk alone at the end of a meal.

Reviewer Name: Robert Parker

Review Date: 30th June 2005

How can this possibly be so cheap for a wine with components this old and so luscious? As you might expect, extremely sweet. A mid-brown, viscous elixir of alcoholic liquidised raisins. Rich, thick and perfect for anything full of dried fruit such as traditional Christmas pudding, or poured over the best vanilla ice-cream you can find.

Reviewer Name: Julia Harding MW

Review Date: 23rd May 2016

Producer

Bodegas Alvear have been making wine here for almost 300 years, and today are in possession of some of the oldest soleras in the region. They also produce a single vintage young wine made from dried grapes, aged in earthenware jars and suitable for long cellaring.

Value Comparison