Angelus 2010 (6x75cl)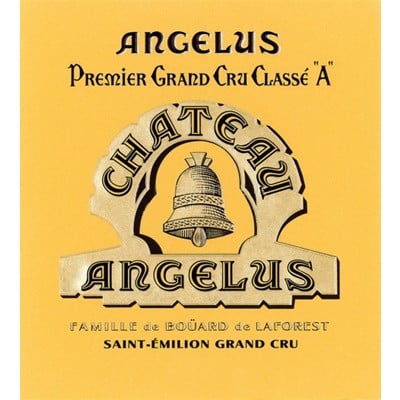 The nose is impressively rich with an opulence and sexiness with earth, berry, spice and chocolate character. Black truffles! Full body, with seamless tannins and beautiful richness. It goes on for minutes. The layers of fruit and ripe tannins are phenomenal. This is the greatest Angelus ever for me. Try in 2018.
Composed of 55% Merlot and 45% Cabernet Franc, the deep garnet colored 2010 Angélus has an open-for-business nose of baked plums, Black Forest cake and blueberry pie with touches of hoisin, Marmite toast and eucalyptus. Full-bodied, rich and oh-so-sensuous, the palate is jam-packed with decadent fruit and framed by firm, ripe, and rounded tannins, finishing with epic length.
Drinking Window: 2020 - 2055
Reviewer Name: Lisa Perrotti-Brown
Review Date: 5th March 2020
This is so opulent it almost stops you in your tracks. 2010 is a big vintage anyway, and when layered up with the seductive power of prime Angélus, it's a package that absolutely delivers. The natural sweetness of the damson fruit is tempered by cherry pits, tar, dark chocolate, charcoal, liquorice and spice, showing incredible persistency. The tannins are layered and hefty, yet cashmere-like and balanced by the acidity, helped again by that shot across the bows that Cabernet Franc gives. This is the kind of year where you understand exactly why Angélus has seen the success that it has.

Drinking Window: 2021 - 2038
Review Date: 24th November 2018
This is really fine, with gorgeous mouthfeel to the notes of blueberry, plum and black cherry preserves. Shows alluring black tea and incense hints in the background, with ample, iron-tinged grip on the finish. This has density and elegance. Impressive. Score range: 94-97
Drinking Window: 2016 - 2045
95
Stephen Tanzer - Vinous
Good deep, bright ruby-red. Extravagantly rich aromas of black raspberry, blueberry, bitter chocolate and coconutty oak. Like liquid silk in the mouth, but with outstanding verve to the huge, palate-saturating flavors of blueberry, violet, espresso and minerals. This is almost too much of a good thing today in a Napa cult wine way, but the wine's molten, slowly building tannins and outstanding finishing power promise a long and glorious evolution in bottle.
Drinking Window: 2016 - 2045
Review Date: 1st July 2013
91-93 Firm and tannic, very structured wine, while still savoring its rich fruit character. This feels very opulent and rich. There is a problem with alcohol showing through as a pepper edge.
Drinking Window: 2016 - 2045
Review Date: 25th June 2011
Details

Year

2010

Colour

Red

Country

France

Region

Bordeaux

Sub Region

Saint-Emilion Grand Cru

Designation

Classification

Pack Size

6x75cl

ABV

15.5°

Drinking Window

2021 - 2055

Drinking Recommendation

Drinking Now, will improve

LWIN

100604520100600750

Reviews (6)

The nose is impressively rich with an opulence and sexiness with earth, berry, spice and chocolate character. Black truffles! Full body, with seamless tannins and beautiful richness. It goes on for minutes. The layers of fruit and ripe tannins are phenomenal. This is the greatest Angelus ever for me. Try in 2018.

Composed of 55% Merlot and 45% Cabernet Franc, the deep garnet colored 2010 Angélus has an open-for-business nose of baked plums, Black Forest cake and blueberry pie with touches of hoisin, Marmite toast and eucalyptus. Full-bodied, rich and oh-so-sensuous, the palate is jam-packed with decadent fruit and framed by firm, ripe, and rounded tannins, finishing with epic length.

Drinking Window: 2020 - 2055

Reviewer Name: Lisa Perrotti-Brown

Review Date: 5th March 2020

This is so opulent it almost stops you in your tracks. 2010 is a big vintage anyway, and when layered up with the seductive power of prime Angélus, it's a package that absolutely delivers. The natural sweetness of the damson fruit is tempered by cherry pits, tar, dark chocolate, charcoal, liquorice and spice, showing incredible persistency. The tannins are layered and hefty, yet cashmere-like and balanced by the acidity, helped again by that shot across the bows that Cabernet Franc gives. This is the kind of year where you understand exactly why Angélus has seen the success that it has.


Drinking Window: 2021 - 2038

Review Date: 24th November 2018

This is really fine, with gorgeous mouthfeel to the notes of blueberry, plum and black cherry preserves. Shows alluring black tea and incense hints in the background, with ample, iron-tinged grip on the finish. This has density and elegance. Impressive. Score range: 94-97

Drinking Window: 2016 - 2045

95

Stephen Tanzer - Vinous

Good deep, bright ruby-red. Extravagantly rich aromas of black raspberry, blueberry, bitter chocolate and coconutty oak. Like liquid silk in the mouth, but with outstanding verve to the huge, palate-saturating flavors of blueberry, violet, espresso and minerals. This is almost too much of a good thing today in a Napa cult wine way, but the wine's molten, slowly building tannins and outstanding finishing power promise a long and glorious evolution in bottle.

Drinking Window: 2016 - 2045

Review Date: 1st July 2013

91-93 Firm and tannic, very structured wine, while still savoring its rich fruit character. This feels very opulent and rich. There is a problem with alcohol showing through as a pepper edge.

Drinking Window: 2016 - 2045

Review Date: 25th June 2011

Producer

Château Angelus is a Saint-Émilion Premier Cru Classé A. The estate has one of the longest histories in Saint-Émilion, dating back to 1782. Saint-Émilion itself was previously called 'Ascumbas'. It was renamed after the monk called Émilion, a travelling confessor, who settled in a hermitage carved into the rock there in the 8th century. The monks who followed him started up the commercial wine production in the area. Angelus is owned by the historic de Bouard family. It has a fanatical following in China, in part due to the label image of a golden bell. In China the wine is referred to as 'Kin Chung' (The Golden Bell). The wine has also been featured in James Bond films.

Value Comparison