Bernard Dugat-Py Gevrey-Chambertin 1er Cru Les Champeaux 2019 (6x75cl)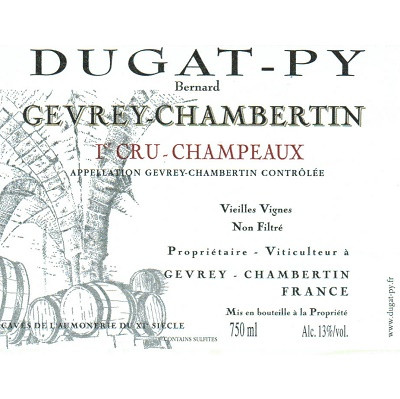 Price range HK$10,165 - HK$12,710
A fine follow-up to the lovely 2018 rendition, Dugat-Py's 2019 Gevrey-Chambertin 1er Cru Champeaux opens in the glass with aromas of raspberries and cherries, complemented by hints of violets, smoked meats, rich soil tones and a pretty top note of rose petals. Medium to full-bodied, layered and multidimensional, with real texture and mid-palate amplitude, it's lively and penetrating, with a long, fragrant finish. As I've written before, these vines have been in the family for a long time, and the Champeaux was often purchased by Maison Leroy in the days before the Dugat family began domaine bottling.
Reviewer Name: William Kelley
Review Date: 15th January 2021
(from a .33 ha of 50+ year old vines that abut Cazetiers; 60% stems). A much different, and much earthier and more sauvage-inflected nose, grudgingly reveals deeply pitched and ripe aromas of dark berries, plum liqueur and a whiff of oak. Here too there is a relatively fine mouthfeel to the gorgeously textured medium-bodied flavors that exude ample minerality on the firm, serious and youthfully austere finale. (91-94)/2034+
Reviewer Name: Allen Meadows
Review Date: 20th January 2021
Very dense and concentrated on the nose. Smooth tannin management and sumptuous texture. Really lovely and rich yet lively.
Drinking Window: 2026 - 2042
Review Date: 1st January 2021
Details

Year

2019

Colour

Red

Country

France

Region

Burgundy

Sub Region

Gevrey-Chambertin

Designation

Pack Size

6x75cl

Drinking Window

2026 - 2042

Drinking Recommendation

Not Ready

LWIN

140864720190600750

Reviews (3)

A fine follow-up to the lovely 2018 rendition, Dugat-Py's 2019 Gevrey-Chambertin 1er Cru Champeaux opens in the glass with aromas of raspberries and cherries, complemented by hints of violets, smoked meats, rich soil tones and a pretty top note of rose petals. Medium to full-bodied, layered and multidimensional, with real texture and mid-palate amplitude, it's lively and penetrating, with a long, fragrant finish. As I've written before, these vines have been in the family for a long time, and the Champeaux was often purchased by Maison Leroy in the days before the Dugat family began domaine bottling.

Reviewer Name: William Kelley

Review Date: 15th January 2021

(from a .33 ha of 50+ year old vines that abut Cazetiers; 60% stems). A much different, and much earthier and more sauvage-inflected nose, grudgingly reveals deeply pitched and ripe aromas of dark berries, plum liqueur and a whiff of oak. Here too there is a relatively fine mouthfeel to the gorgeously textured medium-bodied flavors that exude ample minerality on the firm, serious and youthfully austere finale. (91-94)/2034+

Reviewer Name: Allen Meadows

Review Date: 20th January 2021

Very dense and concentrated on the nose. Smooth tannin management and sumptuous texture. Really lovely and rich yet lively.

Drinking Window: 2026 - 2042

Review Date: 1st January 2021

Value Comparison