Bollinger RD 2002 (6x75cl)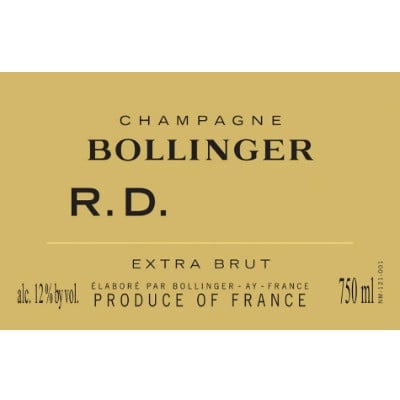 It's striking that is as fresh as it is given the ten years in the cellars. It has a fine citrus nose with plenty of lemons, grapefruit and yellow chalky notes, not to mention some lighter floral elements. The palate is super dry (dosage at 3-4g), and there's a silky, sherbet-like texture that makes this smooth fine and long. The citrus flavors give way to the surging acidity and the finish twists very slowly through to lightly toasted cashew nuts mingled with complex fruit and citrus flavors. Disgorged October 22, 2013.
96
Antonio Galloni - Vinous
Bollinger's 2002 R.D. is striking in its beauty. Silky and caressing on the palate, the 2002 impresses for its exceptional balance and harmony. In 2002 so many Champagnes are ripe and explosive in style, but the 2002 R.D. is quite restrained by comparison. Hints of apricot pit, smoke, almonds, spices and pears ring out on the super-finessed, inviting finish. The 2002 is going to be nearly impossible to resist in its youth, but it should also age impeccably. All the elements are in the right place. Dosage is 3-4 grams per liter.
A fine example of power married to elegance, this is impeccably balanced, with a mouthwatering palate of crème de cassis, toasted brioche, fleur de sel and crystallized honey flavors. The rich, smoky underpinning is carried on a finely detailed bead. Disgorged March 2014. Drink now through 2030.
Drinking Window: 2015 - 2030
Review Date: 15th November 2015
A wine that really needs time in the glass to show at its best, Bollinger's 2002 RD comes from a total 23 different crus (71% being Grand Cru) and is a 60/40 split of Pinot Noir and Chardonnay. Disgorged in 2013 after spending 11 years in bottle, it offers a dry, savory style that quickly morphs toward more stone fruits, toasted nuts, dried earth and exotic spices. Deep, pure, and incredibly chiseled on the palate, with a gorgeous texture and great finish, this is a Champagne I'd decant if drinking anytime soon. The dosage is in the 3-4 grams range, and while it's certainly on the dry/savory end of the spectrum, it offers incredible complexity and depth.
Drinking Window: 2018 - 2038
Review Date: 15th March 2018
Expressive and richly textured Pinot Noir. Profound.

Big names do not help if you are not familiar with a certain house style, and so I can understand everyone who dislikes Bollinger's 2002 RD Extra Brut, which at first sight reveals a matured if not an old wine displaying toffee, floral (hyacinths, narcissus, sage), vegetal and spicy aromas (oak, cannabis, frankincense, black bread) -- but almost no fruit (at least no fresh fruit). This wine was disgorged in March 2014, but just needs a lot of time in the glass to develop its complexity. On the palate this is a very pure, fresh, lively, firmly structured and almost ascetic wine with complexity, but almost no sensuality. Very distinctive style.
Drinking Window: 2014 - 2018
Reviewer Name: Stephan Reinhardt
Review Date: 30th October 2015
Details

Year

2002

Colour

White

Country

France

Region

Champagne

Sub Region

NA

Designation

Classification

Pack Size

6x75cl

ABV

12°

Drinking Window

2018 - 2038

Drinking Recommendation

Drinking Now, will improve

LWIN

108180620020600750

Reviews (6)

It's striking that is as fresh as it is given the ten years in the cellars. It has a fine citrus nose with plenty of lemons, grapefruit and yellow chalky notes, not to mention some lighter floral elements. The palate is super dry (dosage at 3-4g), and there's a silky, sherbet-like texture that makes this smooth fine and long. The citrus flavors give way to the surging acidity and the finish twists very slowly through to lightly toasted cashew nuts mingled with complex fruit and citrus flavors. Disgorged October 22, 2013.

96

Antonio Galloni - Vinous

Bollinger's 2002 R.D. is striking in its beauty. Silky and caressing on the palate, the 2002 impresses for its exceptional balance and harmony. In 2002 so many Champagnes are ripe and explosive in style, but the 2002 R.D. is quite restrained by comparison. Hints of apricot pit, smoke, almonds, spices and pears ring out on the super-finessed, inviting finish. The 2002 is going to be nearly impossible to resist in its youth, but it should also age impeccably. All the elements are in the right place. Dosage is 3-4 grams per liter.

A fine example of power married to elegance, this is impeccably balanced, with a mouthwatering palate of crème de cassis, toasted brioche, fleur de sel and crystallized honey flavors. The rich, smoky underpinning is carried on a finely detailed bead. Disgorged March 2014. Drink now through 2030.

Drinking Window: 2015 - 2030

Review Date: 15th November 2015

A wine that really needs time in the glass to show at its best, Bollinger's 2002 RD comes from a total 23 different crus (71% being Grand Cru) and is a 60/40 split of Pinot Noir and Chardonnay. Disgorged in 2013 after spending 11 years in bottle, it offers a dry, savory style that quickly morphs toward more stone fruits, toasted nuts, dried earth and exotic spices. Deep, pure, and incredibly chiseled on the palate, with a gorgeous texture and great finish, this is a Champagne I'd decant if drinking anytime soon. The dosage is in the 3-4 grams range, and while it's certainly on the dry/savory end of the spectrum, it offers incredible complexity and depth.

Drinking Window: 2018 - 2038

Review Date: 15th March 2018

Expressive and richly textured Pinot Noir. Profound.


Big names do not help if you are not familiar with a certain house style, and so I can understand everyone who dislikes Bollinger's 2002 RD Extra Brut, which at first sight reveals a matured if not an old wine displaying toffee, floral (hyacinths, narcissus, sage), vegetal and spicy aromas (oak, cannabis, frankincense, black bread) -- but almost no fruit (at least no fresh fruit). This wine was disgorged in March 2014, but just needs a lot of time in the glass to develop its complexity. On the palate this is a very pure, fresh, lively, firmly structured and almost ascetic wine with complexity, but almost no sensuality. Very distinctive style.

Drinking Window: 2014 - 2018

Reviewer Name: Stephan Reinhardt

Review Date: 30th October 2015

Producer

Where does the legend of Bollinger begin? Does it start when Lily Bollinger took over the House when her husband died during the war? Or was it even further back, when the House received a Royal Warrant from the Court of England in 1884? Bond fans may argue it was when Ian Fleming featured Bollinger in his fourth James Bond novel, Diamonds are Forever. And the legend begins again each time a bottle is popped.

Value Comparison