Bonneau du Martray Corton-Charlemagne Grand Cru 2007 (3x150cl)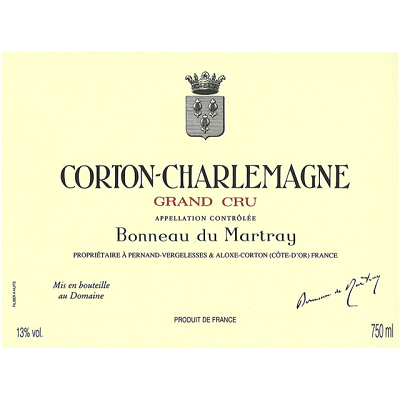 De la Moriniere is always at pains to caution that his white "shuts down" for several years soon after bottling, but in that case I must have tasted his 2007 Corton-Charlemagne before that happened. Cooling herbal, restrained floral and bitter-sweet hints of black currant and citrus rind on the nose lead to a luscious tide of ripe yellow plum, white peach, lime, and grapefruit tinged with chalk, salt, and iodine. A silken texture in no way diminishes the impression of clarity and refreshment. Faintly honeyed and nut oil notes add a sense of richness and depth in a finish of utmost purity of refreshing fruit; clarity to mineral nuances; and vibratory energy. When one compares the 2006 side-by-side today, the latter does indeed show a more overt stoniness and – for all of its textural richness and additional amplitude – suffers slightly in comparison with such fresh fruit vivacity as accrues to the 2007. But either of these contrasting reflections of a great site should be well worth following for more than a decade.
Drinking Window: 2009 - 2019
Reviewer Name: David Schildknecht
Review Date: 22nd December 2009
This remains almost unchanged from my original review and while there is some discernable development, it remains quite youthful with its wonderfully elegant, pure and high-toned nose that is quite floral with a pronounced citrus influence to the green apple and wet stone notes that border on a mineral-reduction character. The detailed and equally pure mineral-driven medium-bodied flavors possess a cuts-like-a-knife linearity on the bone dry and palate staining finish. This is like sucking on pebbles and while the flavors are still distinctly austere, the balance is impeccable and this should make for a first-rate vintage for this wine in time. However, it's necessary to point out that one recent bottle displayed some obvious premox.
92(+?)
Stephen Tanzer - Vinous
Pale yellow. Complex nose melds lemon, lime, apple, flowers, powdered stone and sexy fresh herbs. Silky on entry, then quite firm in the middle, with the crushed stone element initially dominating underlying fruit. With aeration, this showed a richer texture and emerging citrus fruit and floral qualities. There's a slightly saline quality here and a firm spine but the wine avoids coming off as hard or rough. Still, its classically dry finish, with flavors of pineapple and crushed stone, give it a youthful austerity. This was bottled in the spring of 2009, and I would not be surprised if it went into a shell in the next 6 to 12 months.
Drinking Window: 2013 - 2020
Review Date: 1st September 2009
Details

Year

2007

Colour

White

Country

France

Region

Burgundy

Sub Region

Corton-Charlemagne

Designation

Pack Size

3x150cl

Drinking Window

2013 - 2020

Drinking Recommendation

Drinking Now

LWIN

106177620070301500

Reviews (3)

De la Moriniere is always at pains to caution that his white "shuts down" for several years soon after bottling, but in that case I must have tasted his 2007 Corton-Charlemagne before that happened. Cooling herbal, restrained floral and bitter-sweet hints of black currant and citrus rind on the nose lead to a luscious tide of ripe yellow plum, white peach, lime, and grapefruit tinged with chalk, salt, and iodine. A silken texture in no way diminishes the impression of clarity and refreshment. Faintly honeyed and nut oil notes add a sense of richness and depth in a finish of utmost purity of refreshing fruit; clarity to mineral nuances; and vibratory energy. When one compares the 2006 side-by-side today, the latter does indeed show a more overt stoniness and – for all of its textural richness and additional amplitude – suffers slightly in comparison with such fresh fruit vivacity as accrues to the 2007. But either of these contrasting reflections of a great site should be well worth following for more than a decade.

Drinking Window: 2009 - 2019

Reviewer Name: David Schildknecht

Review Date: 22nd December 2009

This remains almost unchanged from my original review and while there is some discernable development, it remains quite youthful with its wonderfully elegant, pure and high-toned nose that is quite floral with a pronounced citrus influence to the green apple and wet stone notes that border on a mineral-reduction character. The detailed and equally pure mineral-driven medium-bodied flavors possess a cuts-like-a-knife linearity on the bone dry and palate staining finish. This is like sucking on pebbles and while the flavors are still distinctly austere, the balance is impeccable and this should make for a first-rate vintage for this wine in time. However, it's necessary to point out that one recent bottle displayed some obvious premox.

92(+?)

Stephen Tanzer - Vinous

Pale yellow. Complex nose melds lemon, lime, apple, flowers, powdered stone and sexy fresh herbs. Silky on entry, then quite firm in the middle, with the crushed stone element initially dominating underlying fruit. With aeration, this showed a richer texture and emerging citrus fruit and floral qualities. There's a slightly saline quality here and a firm spine but the wine avoids coming off as hard or rough. Still, its classically dry finish, with flavors of pineapple and crushed stone, give it a youthful austerity. This was bottled in the spring of 2009, and I would not be surprised if it went into a shell in the next 6 to 12 months.

Drinking Window: 2013 - 2020

Review Date: 1st September 2009

Producer

Domaine Bonneau du Martray is on the famous Corton Hill, Burgundy; vineyards here were a favourite of Charlemagne. White wine was planted to protect the integrity of his regal beard from red wine stains. With traditional practices and legendary terroir they make one of the best white wines in the Cote d'Or.

Value Comparison