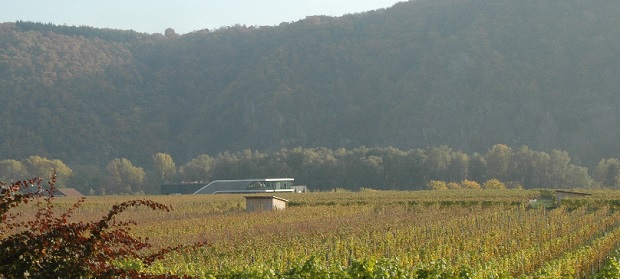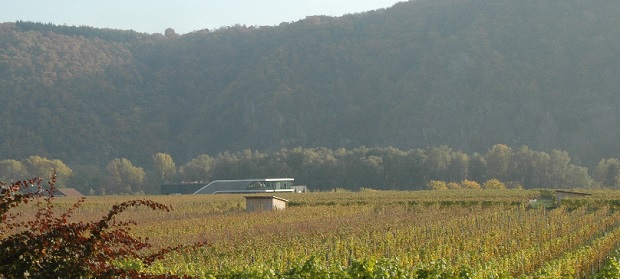 Glorious, wondrous wine, desert-island wine, a cooling drink on a hot day, or a complex, contemplative masterpiece to rival any of the finest Burgundies, or a rich, botrytis-tinged, sticky-sweet number to end a banquet. Madeline Mehalko - Senior Buyer - champions Austrian wines as amongst the finest in the world.
Ah, the Wachau. As perfect an amalgamation of Earth, Water, Air, and Sky as is surely possible to exist. The sensuous curves of the blue Danube snaking through the verdant green landscape, emerald vines lazily sloping down to the river's banks, while stretching in the cool breeze towards the perfect azure sky. No place on earth needs more than this, this idyll, this perfection. The sleepy villages blending seamlessly into the surroundings, almost as if created by nature itself rather than the interfering hand of man. The occasional chime from a church bell tower, the only reminder that time is not standing still. But then, tucked away within these villages, these hamlets and towns, something exciting is happening. It begins in the soils; it reaches up the slopes from the river banks, through the stems of the vines. It continues in baskets, in presses, in vats, in barrels. It goes underground, in hiding, waiting for its coup, to escape from its glass prison to feel the air, stretch its legs. It is, of course, wine. Glorious, wondrous wine, desert-island wine, a cooling drink on a hot day, or a complex, contemplative masterpiece to rival any of the finest Burgundies, or a rich, botrytis-tinged, sticky-sweet number to end a banquet. All of this from an area only 25 miles long, a mere fraction of Burgundy's 225 miles, or the nearly 1500 square miles of Bordeaux. These are amongst the finest white wines in the world and I would challenge anyone, novice and expert alike, to taste them and conclude otherwise.
Understanding what makes them great is less straightforward. We can nose, we can taste, we can pontificate. We can read books on how wine is made, assuring ourselves that the process is technically correct. We can visit the vineyards, the wineries, talk to the winemakers, get under the skin of the wine. But to truly understand, we need to go back. Way back, millions of years to the intrepid young Danube forging its way through the landscape, through granite and quartz and mica. Slowly, persistently chipping away, beginning to form the steep granitic terraces of today. Way back, to the end of the Ice Age, when harsh winds blew bitter and cold, whipping up sand destined to settle into drifts, into deep layers of Loess. Way back, to prehistoric man, clearing the forests, instinctively knowing that to live, to settle, to grow life-sustaining crops, he needed usable land, clear of obstruction. Way back, to Medieval monks, building terraces, planting vines, paving the way for their contemporaries to create the world-class wines that are made today. The flow of history here, of progress and process, is as clear and constant as the Danube itself. Not surprising then, that this place is a UNESCO World Heritage site, recognised for its natural beauty as well as its well preserved history, landscape and agriculture. It is also important to understand the people, their innovative nature, their intrinsic knowledge of this land inhabited by their ancestors. Recognising the inadequacies of the national system of qualification, often confusing and non-specific with only a handful of regions given their own recognised appellations, they endeavoured to create their own (even forming their own regulatory body, the Vinea Wachau Nobilis Districtus). So rather than opening a bottle simply labelled as a 'Qualitatswein', having no idea of the style, the richness or sweetness of the wine that lies within, the label on a wine from the Wachau will give clear clues as to what to expect. There are the filigree 'Steinfeder', naturally low in alcohol without reverting to modern, scientific techniques too often found in commercial 'low-alcohol' wines. There are the lean and crisp Federspiels, still only a mere 11.5%-12.5% in alcohol, dry and refreshing and perfect al fresco. Then, the late-harvest wines, structured and long-lived and with an endless spectrum of aromatic complexity – the Smaragd. Tantalisingly and unctuously rich, but fermented dry.
The darling of Austria's wine trade is undoubtedly Gruner Veltliner. Without its distinctively peppery wines, ranging from soft and peachy to austere and mineral, Austria would still be relegated to the most remote outer edge of the world's wine trade, a wasteland, still reeling from the antifreeze scandal in the 80s, doomed to be barely a glimmer in the consciousness of the average wine drinker. With time, persistence and constant improvements in winemaking techniques, the grape has become visible, trendy even, in most major markets. It is Austria's – and forgive the corporate jargon – USP, its unique selling point. Gruner Veltliner in the Wachau, grown on Loess over complex parcels of gneiss, reaches new heights – it is a wine to be taken seriously, not a frivolous drop to be thoughtlessly downed at a party or in front of the TV. Its thick skins mean that if handled right, this is no delicate flower: there is structure, there is power and complexity, even some tannin to be had. The wines from the warmer sites like in Loibenberg are 'new money'. They are rich, they are not afraid of opulence; they delight in readily giving themselves away while youth is on their side with their wealth of flattering fruit. That isn't to say they don't have enough substance to be intriguing later in life… sometimes time to reflect and gain wisdom does them a world of good. Those from cooler sites like Kellerberg (or those made by a strict hand like Emmerich Knoll) are the eccentric aristocracy. Yes, they have breeding, they have substance, they have riches. But they would rather live in a cold stone dwelling, dress themselves simply, squirrel away what they have until much later in life when they realise their own mortality and loosen up a little, liberate their honeyed riches. All wonderful, especially in the right hands, and though white pepper does make an appearance, here it is only one part of a complex equation. And then, of course, there is Riesling, wonderful Riesling, intriguing in nearly every guise worldwide from the light and sweet Germans to the rich and often sweet Alsacians to the dry, lime-cordial scented Aussie versions. Here it is the prince, the king, the emperor over all others. The granitic terraces make for wines which are steely, tense, pure, layered, stacked, rich, ripe… powerful but restrained, with incredible aromatic complexities, real wine-drinkers wines. It is possible to find sweet nectars of the gods from both varieties here if one is so inclined, sweet wines to rival any Sauternes or German TBA, usually the pride and joy of the winemaker.
For die-hard fans of the Wachau, of which surely there will be more and more as time goes on, even the sight of those distinctive, elongated Burgundy bottles can get the heart racing - not quite a flute, the shoulders are wider. Then the tell-tale red and white capsule. Then, perhaps, the sight of the word Smaragd, and hopefully, the sight of a good, mature vintage. From the textbook wines of Domaine Wachau, to the stunning purity of the staunchly biodynamic Nikolaihof, to the esoteric austere wines with the oddly religious labels from Weingut Knoll, to the sheer class at FX Pichler… these are amongst the finest wines in the world.