Emilia-Romagna
Welcome to the charming region of Emilia-Romagna, a land of culinary delights and exceptional wines. As an expert with a discerning palate, you appreciate the rich viticultural heritage, diverse terroir, and exceptional quality that define Emilia-Romagna wines. Join us on a journey to explore the finest expressions of this remarkable region, where illustrious vineyards, indigenous grape varieties, and winemaking expertise converge.

Emilia-Romagna is home to a host of renowned vineyards that have garnered international acclaim for their exceptional wines. Among the most esteemed estates is Tenuta San Guido, the birthplace of the legendary Sassicaia. This vineyard, located in the coastal area of Bolgheri, produces iconic Super Tuscan wines that have captivated wine enthusiasts worldwide.

Another prominent vineyard in Emilia-Romagna is Podere Rocche dei Manzoni, known for its exceptional Barolo wines. With meticulous vineyard practices and a commitment to traditional winemaking techniques, Podere Rocche dei Manzoni creates wines that exemplify the elegance and power of the Nebbiolo grape.

Other notable vineyards in Emilia-Romagna include Cleto Chiarli e Figli, renowned for its production of Lambrusco wines, and Azienda Agricola Romagna Solatìo, celebrated for its Sangiovese and Albana wines. Cantine Ceci and Poderi dal Nespoli are also esteemed estates, recognized for their dedication to crafting wines that showcase the unique terroir and grape varieties of Emilia-Romagna.

Emilia-Romagna's diverse terroir, ranging from the hilly areas of the Apennines to the fertile plains, provides an ideal environment for cultivating a wide range of grape varieties. Lambrusco, Sangiovese, Albana, and Pignoletto are among the region's iconic grapes, each contributing to the unique character and personality of Emilia-Romagna wines.

Emilia-Romagna wines captivate the senses with their vibrant colors, enticing aromas, and expressive flavors. From the sparkling and refreshing Lambrusco wines to the structured and complex Sangiovese-based reds, these wines offer a delightful journey through the terroir and winemaking traditions of Emilia-Romagna.
Emilia-Romagna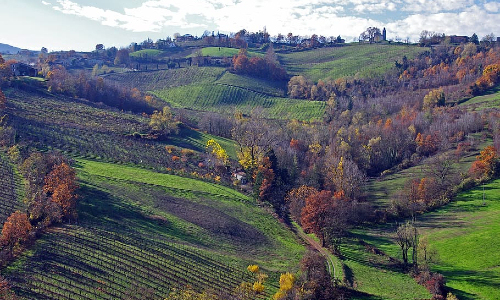 Product Name
Region
Qty
Score
Price

Emilia Romagna
3
-
HK$1,070.00

Emilia Romagna
10
-
HK$1,070.00

Emilia Romagna
4
-
HK$1,605.00

Emilia Romagna
1
-
HK$2,800.00

Le Lucciole is an elevated version of Predappio, sourcing from the 0.8 hectare parcel of Raggio Brusa vineyard. Perched at the lofty altitude of 350 meters, this vineyard is unique in its East-facing situation and poor soils. 100% Sangiovese, this is a very special Italian born-and-bred wine of sensational quality.

The 2018 is a genuine representation of the gracefully balanced vintage. While it offers a welcoming freshness and acidity, there is also a superb concentration to support the wine to cellar in the long term. Production is ultra-limited, only 5,000 bottles were produced.

More Info

Emilia Romagna
1
93-95 (VN)
HK$1,900.00

Vinous (93-95)

There's a good amount of youthful reduction that needs time to blow off, yet the 2019 Sangiovese Romagna Predappio Riserva Le Lucciole still manages to show depths of black raspberry, sage and a cocoa dusting. It's soft-textured with brilliant acidity, adding a burst of inner sweetness as mineral-tinged red berries and sweet spices cascade across the palate. The 2019 finishes structured and long with balsam herbal tones over a saturation of fine tannins. There's so much potential here, but this still needs time. Chiara Condello spoke about waiting a few extra months before release to give this a little more time in bottle to come together.

More Info

Emilia Romagna
4
-
HK$575.00

Clear bright ruby colour, the nose is driven by intense crunchy fruits together with floral aromas and the palate is characterised by silky tannins balanced with nice acidity and a long and fresh elegant finish.

More Info

Emilia Romagna
2
-
HK$1,200.00

Clear bright ruby colour, the nose is driven by intense crunchy fruits together with floral aromas and the palate is characterised by silky tannins balanced with nice acidity and a long and fresh elegant finish.

More Info

Emilia Romagna
1
92 (VN)
HK$1,050.00

Vinous (92)

Mixing both savory and sweet, floral and herbal, earthy yet packed full of bright cherry-berry fruits, the 2019 Sangiovese makes quite a first impression. This is silky in texture, yet juicy and spry with zesty, red berry fruits motivated by brilliant acidity under an air of inner violets and exotic spices. The 2019 has energy to burn, tapering off long and slightly grippy, creating a classically dry impression while also holding your attention firm with its lingering hints of licorice and candied almonds. There is so much balanced pleasure to be had from this Predappio Sangiovese.

More Info

Emilia Romagna
1
92+ (VN)
HK$1,080.00

Vinous (92+)

The 2020 Sangiovese Romagna Predappio is spicy and deep, with sweet rose and dusty black cherries accentuated by hints of ash and mint. This is undeniably elegant in feel, washing silken waves of ripe wild berries across the palate that leave a mineral staining, along with sweet inner herbal tones. It finishes with a lingering concentration and super-fine tannins as tobacco and cocoa notes slowly fade. The 2020 will require a bit more time in bottle to soften its contours, but it's packed full of potential. It's hard to think of this as Chaira Condello's entry-level wine.

More Info
Located in the central north of Italy, the region spans the width of Italy and is located between Tuscany, Lombardy and Veneto. The area has some of Italy's most fertile agricultural land, with some 55,000ha also under vine. The quality of the wine differs remarkably only 15% of the regions production is DOC. It produces, red white and sparkling, which is also produced from red and white grapes. Its most famous is Lambrusco. Sangiovese has an excellent reputation in Romagna and some wines can compete with the Tuscan Sangiovese.