La Mission Haut-Brion 2016 (6x75cl)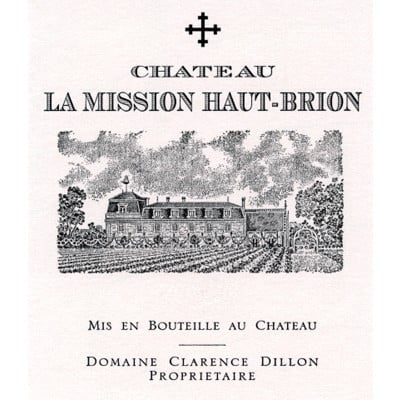 A somehow nobler colour compared to the violet rims preceding. Deep wild forest fruit and a tint of forest floor. Fresh pine needles and bracken. Very clean and focussed with a touch of eucalyptus and mint. Perhaps some limestone powder and toasty cocoa. Palate is super clean and monolithic. Posh stuff and Uber polished
The 2016 La Mission Haut-Brion was stunning from barrel, and now in bottle. It has a sublime bouquet of blackberries, briar and hints of dark chocolate and rose petals that gain intensity with aeration while maintaining ethereal delineation. It never steps on the accelerator too hard. The palate is medium-bodied with fine tannin. There is still a veneer of new oak that will need to be assimilated over the coming years. This is a deep La Mission that caresses the mouth. Touches of graphite lingering on a finish that fans out gloriously. Is the 2016 up there with the 1955 or 1989? Nearly.
Drinking Window: 2026 - 2066
Reviewer Name: Neal Martin
Review Date: 18th January 2019
Wonderful La Mission this year, graceful but with an unmistakable sense of controlled power. The wine just expands outwards and upwards in your mouth - insistent but terribly polite about it. It is deep and silky, shot through with coffee grounds, damson and soft cassis on a creamy mid-palate, utterly beautiful. There is a real energy and vitality here, with a caressing texture to the tannins and huge persistency on the finish. Dense, and yet so finessed that you could almost drink it today. Wow. The blend is 57.5% Merlot and 42.5% Cabernet Sauvignon with a pH of 3.66, harvested between 19th September and 14th October.

Glowing deep crimson. Very intense and ripe. Snazzy and spicy. Polished and racy. Very firm and lots of ripe tannins – very much à La Mission. Super-sophisticated. Inky and fresh and so ripe and confident. A dry style but great. Racy but tannic.
The 2016 La Mission Haut-Brion is a blend of 57.5% Merlot and 42.5% Cabernet Sauvignon. Deep garnet-purple in color, it is just a little muted to begin, soon unfurling to reveal slowly growing scents of crushed blackcurrants, black cherries, dark chocolate and candied violets with nuances of crushed rocks, tobacco leaf, forest floor and fragrant earth plus a hint of bergamot. Medium-bodied and exquisitely elegant, the palate offers perfectly ripe, fine-grained tannins and tons of freshness with layer upon layer of perfumed fruit and a very long, ferrous-laced finish.
Drinking Window: 2022 - 2054
Reviewer Name: Lisa Perrotti-Brown
Review Date: 30th November 2018
The texture to this is very beautiful with chewy yet very polished tannins. Full-bodied, tight and mouth-filling. Starts very slowly and then takes off. Love the energy in this.
Details

Year

2016

Colour

Red

Country

France

Region

Bordeaux

Sub Region

Pessac-Leognan

Designation

Classification

Pack Size

6x75cl

ABV

14°

Drinking Window

2026 - 2066

Drinking Recommendation

Not Ready

LWIN

101317920160600750

Reviews (5)

The 2016 La Mission Haut-Brion was stunning from barrel, and now in bottle. It has a sublime bouquet of blackberries, briar and hints of dark chocolate and rose petals that gain intensity with aeration while maintaining ethereal delineation. It never steps on the accelerator too hard. The palate is medium-bodied with fine tannin. There is still a veneer of new oak that will need to be assimilated over the coming years. This is a deep La Mission that caresses the mouth. Touches of graphite lingering on a finish that fans out gloriously. Is the 2016 up there with the 1955 or 1989? Nearly.

Drinking Window: 2026 - 2066

Reviewer Name: Neal Martin

Review Date: 18th January 2019

Wonderful La Mission this year, graceful but with an unmistakable sense of controlled power. The wine just expands outwards and upwards in your mouth - insistent but terribly polite about it. It is deep and silky, shot through with coffee grounds, damson and soft cassis on a creamy mid-palate, utterly beautiful. There is a real energy and vitality here, with a caressing texture to the tannins and huge persistency on the finish. Dense, and yet so finessed that you could almost drink it today. Wow. The blend is 57.5% Merlot and 42.5% Cabernet Sauvignon with a pH of 3.66, harvested between 19th September and 14th October.


Glowing deep crimson. Very intense and ripe. Snazzy and spicy. Polished and racy. Very firm and lots of ripe tannins – very much à La Mission. Super-sophisticated. Inky and fresh and so ripe and confident. A dry style but great. Racy but tannic.

The 2016 La Mission Haut-Brion is a blend of 57.5% Merlot and 42.5% Cabernet Sauvignon. Deep garnet-purple in color, it is just a little muted to begin, soon unfurling to reveal slowly growing scents of crushed blackcurrants, black cherries, dark chocolate and candied violets with nuances of crushed rocks, tobacco leaf, forest floor and fragrant earth plus a hint of bergamot. Medium-bodied and exquisitely elegant, the palate offers perfectly ripe, fine-grained tannins and tons of freshness with layer upon layer of perfumed fruit and a very long, ferrous-laced finish.

Drinking Window: 2022 - 2054

Reviewer Name: Lisa Perrotti-Brown

Review Date: 30th November 2018

The texture to this is very beautiful with chewy yet very polished tannins. Full-bodied, tight and mouth-filling. Starts very slowly and then takes off. Love the energy in this.

Producer

Château La Mission Haut-Brion is the chief challenger to neighbour Château Haut-Brion for supremacy in the Pessac-Léognan appellation. In 1983 the estate was acquired by Domaine Clarence Dillion – the owners of Haut-Brion since 1935. Situated on uniquely stony soil, the vineyard area extends nearly 21 hectares (52 acres) between the two portions in Pessac and Léognan, with a grape variety distribution of 48% Cabernet Sauvignon, 45% Merlot, and 7% Cabernet Franc. Cultivated by monks until the French Revolution, the Chateau produces approximately 6,000-7,000 cases per annum. There is also a second wine called La Chapelle de la Mission, from the vineyard's younger vines (4,000 cases annually). La Mission Haut-Brion is a strong contender for First Growth status. The red is consistently powerful with dark plum and earthy notes, requiring at least 10 years cellaring. There is also one of Bordeaux's top whites simply called La Mission Haut-Brion Blanc.

Value Comparison