Domaine William Fèvre
About Domaine William Fèvre
Founded and extensively developed by the eponymous William Fèvre between 1957 until his retirement in 1998, this Domaine's wines are amongst the most sought-after and frankly exceptional in the entirety of Chablis, a region populated by more than its fair share of great labels.
A measure of the ambition and vision of the estate's founding father, Fèvre began with a modest 7 hectares of Chardonnay vines spread across Chablis. By the time of his selling to Maison Joseph Heriot (of Champagne fame) in 1998, his eponymous Domaine was comprised of 48 hectares dotted around the very greatest Grands and 1er Crus.
The change in ownership heralded the arrival of Didier Séguier, previously of Bouchard in Beaune, a vigneron who has subsequently shepherded Domaine William Fèvre to new and breath-taking heights, building on the extraordinary work of its founder. Overseeing a continuation of practices such as pure hand-harvesting, Séguier is also working hard to shift the Domaine to fully biodynamic methods in order to extract the full potential of the exceptional terroir at his disposal. The most immediately noticeable development in these wines, however, is the reduction in new oak.
Always a controversial topic, especially in Chablis known for its crisp salinity and pure minerality, William Fèvre's penchant for new oak drew as many detractors as ardent fans. Today, no new oak at all is used in the various cuvées, but rather Séguier utilises his former employers Bouchard as a supplier of one year old barrels to be used in a ratio of up to 80% for those Grands Crus which can take it.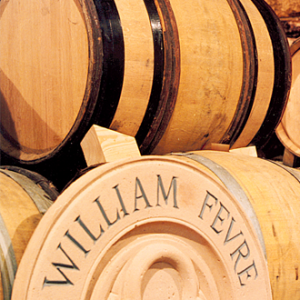 Name
Price Low
Price High
Year (Old)
Year (New)
Product Name
Region
Qty
Score
Price

Burgundy
1
88-90 (VN)
HK$3,150.00

Vinous (88-90)

The 2017 Chablis Fourchaume 1er Cru does not come from estate fruit but three contracted growers. It has a clean and precise honeysuckle scented bouquet, very understated in style. The palate is well balanced with a fine bead of acidity, modest weight in the mouth but it is just missing the precision of say, William Fèvre's Mont de Milieu on the finish.

More Info

Burgundy
1
92-94 (VN)
HK$7,060.00

Vinous (92-94)

The 2018 Chablis Fourchaume 1er Cru is superb. Rich and ample with tremendous structure, the 2018 possesses terrific depth and textural resonance throughout the finish. Orchard fruit, lemon confit, almond and menthol infuse the 2018 with notable complexity and intensity. Textured, oily and deep with a bit of a savory edge, the 2018 has so much to offer.

More Info

Burgundy
1
87-89 (VN)
HK$2,875.00

Vinous (87-89)

From purchased grapes, the 2020 Chablis Fourchaume 1er Cru is primal on the nose, offering grapefruit and light leesy scents and perhaps missing a bit of pedigree compared to the Montée de Tonnerre. The palate is saline on the entry, very citric and slightly bitter toward the finish, where I am seeking a little more substance.

More Info

Burgundy
1
93 (VN)
HK$2,925.00

Vinous (93)

The 2017 Chablis Les Lys 1er Cru is a dense, potent wine that will appeal most to readers who enjoy concentrated whites. Although not exactly subtle, the 2017 possesses superb depth and creaminess. Dried herbs, chamomile, crushed flowers and dried pear notes add character. There is no shortage of intensity, that much is clear. In this tasting, the 2017 comes across as a bit bombastic.

More Info

Burgundy
1
91-93 (BH)
HK$2,830.00

Burghound (91-93)

(from a .55 ha parcel). Slightly honied aromas of exotic white and yellow peach are laced with moderate amounts of classic Chablis character. Interestingly, the medium-bodied flavors are not quite as dense as those of the Les Lys though they are still notably powerful while offering just a bit more depth on the sneaky long, sappy and serious finale. At least some patience will be necessary. 2026+

More Info

Burgundy
1
91-94 (BH)
HK$3,380.00

Burghound (91-94)

(from a .55 ha parcel). Firm reduction dominates the nose though wisps of citrus character can be discerned. In contrast to the Les Lys, here the much bigger-bodied flavors possess very fine density and obvious power on the sappy lemon rind suffused finish. This firm and serious effort will need to develop more depth but if it does this could well be excellent. (91-94)/2028+

More Info

Burgundy
1
91-93 (VN (ST))
HK$4,605.00

Vinous - Stephen Tanzer (91-93)

Pale yellow. Crystalline aromas of pineapple, grapefruit, fresh herbs and iodiney minerality. Very intensely flavored, precise wine with lovely cut but also terrific extract-rich density. Remarkably pure considering the hail, but this very backward wine will need time in bottle. Finishes distinctly firm-edged, with juicy salinity, a touch of positive bitterness, and superb rising length and lift. Really resounds on the aftertaste.

More Info

Burgundy
1
92-94 (VN)
HK$2,350.00

Vinous (92-94)

(23 hectoliters per hectare): Pale, slightly cloudy yellow. Strong mineral notes of shrimp shell and sea breeze currently dominate citrus and white peach on the nose. Densely packed, concentrated and energetic; wonderfully fresh and balanced for the year. Clamps down impressively on the superb, sappy, slowly rising finish, leaving behind piquant notes of grapefruit, lemon zest and minerals. Classically dry, crystalline and taut but not austere. This beauty really spreads out to saturate the palate on the back end.

More Info

Burgundy
1
95 (VN)
HK$3,390.00

Vinous (95)

The 2017 Chablis Montée de Tonnerre 1er Cru shows why this site is so highly regarded. Even with all of the challenges of the growing season, all of the personality of this 1er Cru comes through loud and clear. Pale in color yet remarkably deep, the 2017 offers up a compelling mélange of citrus and orchard fruits perked up by bright acids and striking floral overtones. Weightless yet powerful, with explosive energy and superb balance, the 2017 Clos is fabulous. Readers who can find it should not hesitate.

More Info

Burgundy
2
92-94 (VN)
HK$2,800.00

Vinous (92-94)

The 2018 Chablis Montée de Tonnerre 1er Cru is very tight, but it was also racked just prior to this tasting, and Montée de Tonnerre is naturally a site that yields intensely mineral wines. Bright citrus, mint, chalk and white pepper open up gradually in a brisk, focused wine that needs time to show at its best. The Fèvre Montée de Tonnerre is a blend of three climats: Pied d'Aloup (east-facing), Chapelot (south-facing) and Côte de Bréchain (west-facing, vines planted in 1936).

More Info

Burgundy
1
17 (JR)
HK$2,380.00

Jancis Robinson (17)

Very creamy on the nose, marked by the lees and gentle oak. Fresh citrus and almost something floral, like blossom, as well as stony/mineral character. Rich, deep and lively. Generous with a good acid backbone, even if it is a little softer than the Vaillons. (JH)

More Info

Burgundy
8
95 (DC)
HK$3,040.00

Decanter (95)

Fèvre has three parcels in Montée de Tonnerre (its purest, most mineral premier cru): Chapelot, Pied d'Aloup and Côte de Bréchain, all facing different ways. Very precise, crystalline fruits, salinity, great acidity and a long, long finish. Will age beautifully, but great now.

More Info

Burgundy
1
17 (JR)
HK$1,870.00

Jancis Robinson (17)

Clean-cut stony citrus, with less obvious creaminess compared with the Montée de Tonnerre. Smells so pure. Likewise on the palate, direct, taut and with just a hint of creamy texture to keep the freshness in balance. (JH)

More Info

Burgundy
1
93 (DC)
HK$2,665.00

Decanter (93)

A wine from a selection of sites over 3.9ha in Butteaux, Forêts and Montmains. Butteaux is very cold and mineral, while Forêts is elegant and floral. Great precision and focus here, allied with crystalline citrus fruits on the palate. Shows density, but is also very fresh, with lovely mineral characters on the finish. A highly successful Montmains.

More Info

Burgundy
5
17 (JR)
HK$2,030.00

Jancis Robinson (17)

Even though this has no more oak influence than the other Fèvre premiers crus, it smells more spicy in a stony/smoky, perhaps slightly reductive, way. Tight, zesty citrus on the palate. Intense, with no loss of freshness. Mouth-wateringly moreish. (JH)

More Info

Burgundy
2
94 (DC)
HK$3,635.00

Decanter (94)

Lively appley nose that is fresh, vibrant and elegant. With a fresh, silky attack, the palate is very elegant. This has purity and texture, with less power than some other crus but a stylish, citric finish.

More Info

Burgundy
1
96 (DC)
HK$3,565.00

Decanter (96)

Now made separately from Fèvre's Fourchaume bottling - it's technically part of the same large premier cru - this has the structure and complexity of a top grand cru. It's powerful yet fresh, with impressive density and notes of aniseed and citrus peel.

More Info

Burgundy
14
17 (JR)
HK$3,215.00

Jancis Robinson (17)

A little more sour-cedary on the nose compared with the Valmur, stony too. That same sour freshness on the palate – very zesty and sinewy. Tight and precise. Should age very well in bottle. (JH)

More Info

Burgundy
1
92 (JS)
HK$4,875.00

James Suckling (92)

This offers plenty of fruit and a deeply fleshy texture on the palate. The nose is all melon, peaches and limes and the palate has such juicy and fleshy texture, combined with a flash of bright, refreshing acidity, holding melon, pears and white peaches fresh and long. A concentrated and delicious AC from Fèvre in 2018. Drink now.

More Info

Burgundy
1
91 (WA)
HK$2,415.00

Wine Advocate (91)

A sleeper of the vintage, Fèvre's 2019 Chablis Village opens in the glass with notes of citrus oil, white flowers, crisp green apple and oyster shell. Medium to full-bodied, satiny and chiseled, it's taut and concentrated, with racy acids and a long, chalky finish. Produced from some 40 hectares of vineyards, averaging around 50 years old, this was cropped at yields of 43 hectoliters per hectare. Unusually intense and structured, readers willing to give this cuvée a bit of bottle age will be rewarded.

More Info

Burgundy
1
93 (DC)
HK$1,955.00

Decanter (93)

Domaine wine with 50-year-old vines from a number of vineyards, including north-facing plots underneath Les Lys, north west facing opposite Vaillons and south facing around Troesmes, plus some mineral soils from around Chichée. Intense and driven, you can smell the Kimmeridgian. Great energy and focus. Spice on the finish, precise acidity. Will age for many years. Bottled just before the 2021 harvest.

More Info

Burgundy
4
92 (DC)
HK$2,020.00

Decanter (92)

William Fevre own 46ha of AP Chablis but there was lots of frost damage in 2021 - the yield was just 18hl/ha! Lovely floral notes here, very precise and focussed. This is already appealing although the acidity is certainly evident. Lingering spice notes on the finish. From a tank sample, with bottling due in November. Drink from next year and for many years.

More Info

Burgundy
1
92-94 (WA)
HK$4,160.00

Wine Advocate (92-94)

The 2016 Chablis Grand Cru Bougros has a very attractive bouquet in the making: apple blossom, linden, wet limestone and touches of pear emerging from the glass, all with fine delineation. The palate is well balanced with fine acidity. It is taut and linear but there is fine depth here and a touch of salinity toward the finish that lingers in the mouth. Excellent.

More Info

Burgundy
1
95 (JMO)
HK$3,090.00

Jasper Morris Inside Burgundy (95)

Pale primrose. Medium to full concentration on the nose. Then an explosion on the palate, with both depth and great clarity. This has a fine touch to it that augurs very well. Really fine boned without in anyway sacrificing intensity. Brilliantly classy. DIAM 10 closure.

More Info

Burgundy
15
92-94 (BH)
HK$3,225.00

Burghound (92-94)

(from an incredible ~6 ha parcel). A ripe and beautifully layered nose consists of notes of green fruit, citrus, iodine and mineral reduction. The powerful, rich and voluminous big-bodied flavors possess fine mid-palate density that coats the palate with sap before concluding in an austere, long and vaguely rustic finale. This is an imposing Bougros that should age effortlessly over the next decade plus. 2029+

More Info

Burgundy
1
94 (TA)
HK$1,655.00

Tim Atkin MW (94)

Planted by William's father, these vines are now 55 years old. All the parcels here are on steep slopes. The scintillating nose starts with salted lemons and perky grapefruit peels. The wholesome breadth on the nicely weighty mid-palate vies with tingly acidity and creates a push-pull of ripe fruit and savory minerality from start to finish. 2023-2034

More Info

Burgundy
1
94 (TA)
HK$3,800.00

Tim Atkin MW (94)

Planted by William's father, these vines are now 55 years old. All the parcels here are on steep slopes. The scintillating nose starts with salted lemons and perky grapefruit peels. The wholesome breadth on the nicely weighty mid-palate vies with tingly acidity and creates a push-pull of ripe fruit and savory minerality from start to finish. 2023-2034

More Info

Burgundy
2
91-94 (JMO)
HK$2,730.00

Jasper Morris Inside Burgundy (91-94)

From old vines of around 60-65 years on average. Fresh pale colour with a light green tint. Clear pale colour, slightly smoky, good volume of fruit, the smoke coming out in the mouth as reduction on the seashells. Solid weight here, plus the minerals as well. Pretty good intensity across the piece with density at the back. Drink from 2027-2033. Tasted: June 2022

More Info

Burgundy
4
96 (VN)
HK$5,510.00

Vinous (96)

The 2017 Chablis Bougros Côte Bouguerots Grand Cru is mind-bending. Usually a more powerful Chablis, in 2017 the Côte Bouguerots is airy, weighty and beautifully lifted, with pretty floral and saline notes that confer a great deal of freshness. The 2017 opens up beautifully with time in the glass, showing tons of volume and resonance, all retaining its bright, sculpted personality.

More Info

Burgundy
1
96 (DC)
HK$3,490.00

Decanter (96)

One of three producers in Chablis to bottle wine under this label (or a slight variation of its spelling), this comes from what is generally considered the best bit of Bougros, on a slope close to the River Serein. Picked early in 2018, this is fresher and more refined than it can be in warmer vintages, showing beeswax and citrus perfume, refined oak and lingering freshness.

More Info