Eisele Vineyard (Araujo)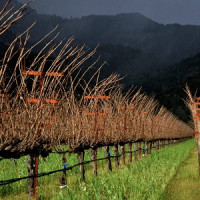 About Eisele Vineyard (Araujo Estate)
Eisele Vineyard is one of Napa Valley's most exciting wines, its production is overseen by Château Latour's Frédéric Engerer.
The Eisele Vineyard was previously called Araujo Estate.founded in 1990 by Bart and Daphne Araujo. The 15ha Eisele vineyard is located on an alluvial fan near the northern end of the Napa Valley, just east of Calistoga. It is protected by the Palisades Mountain to the north and cooled by westerly breezes, and produces a low-yielding crop of very concentrated fruit.
First planted to vines in 1880, the iconic Eisele Vineyard is one of California's most celebrated terroirs. Situated in the northeast Napa Valley, just east of Calistoga at the base of the Palisades Mountain range and farmed organically since 1998 then biodynamically since 2000, the site has been principally dedicated to Cabernet Sauvignon for the last fifty years. Beginning with the inaugural release bearing the Eisele name in 1971, this iconic vineyard has received consistent recognition for possessing one of the great terroirs of Napa Valley.
The flagship Cabernet Sauvignon from this vineyard is unquestionable one of California's top cult wineries and has been for many years. It was included in Robert Parker's 2005 book "The World's Greatest Wine Estates".
Eisele today is owned by French billionaire François Pinault who also owns Château Latour and Burgundy's Clos de Tart.