Benjamín Romeo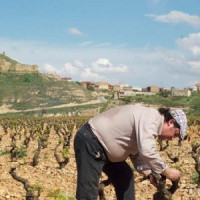 About Benjamín Romeo
There can be fewer places better to cut one's teeth as a winemaker in Rioja than the imperious Artadi, home of Viña El Pisón, one of the world's truly great prestige cuvées. In fact, Benjamín Romeo not only learnt his craft at the foots of the Rioja masters here at Artadi, he himself mastered the craft spending an incredible 15 years at the estate before finally striding out on his own, crafting wines befitting of his prodigious talent.
Establishing Bodegas Benjamín Romeo at the turn of the millennium, it was immediately clear that this label would ascend to the very highest heights of the appellation's hierarchy. Chief amongst his range of cuvées is Contador – a worthy rival to any single wine from the plethora of Rioja's legendary bottlings.
Sourced from a strict selection of vines with over 60 years of age, the Contador cuvée is both the flagship wine of Romeo and incredibly rare with only around 6,000 bottles produced every vintage. In 2007, the Contador joined the elite group of only 45 wines from Rioja scored 98 points and above by the Wine Advocate – ever. This accolade should come as little surprise however...10 of that 45 were crafted by Benjamín Romeo!
Year
Wine
Region
Format
Qty
Score
Price
Wishlist

Benjamin Romeo Cataluna Macizo 2009 (12x75cl)

HK$635.00

2009
Rioja
12x75cl
9
-
HK$635.00

Benjamin Romeo Rioja Contador 2008 (6x75cl)

HK$12,370.00

2008
Rioja
6x75cl
3
98 (WA)

Read Review/Description

HK$12,370.00

Benjamin Romeo Rioja Contador 2017 (6x75cl)

HK$14,560.00

2017
Rioja
6x75cl
2
-
HK$14,560.00

Benjamin Romeo Rioja La Vina de Andres Romeo 2010 (6x75cl)

HK$4,095.00

2010
Rioja
6x75cl
8
95 (VN)

Read Review/Description

HK$4,095.00