Caiarossa
About Caiarossa
Unlike the usual Super Tuscans, the Caiarossa consists of a blend of 7 French and Italian varietals. Since 2004, it shares the same owner as Château Giscours and Château du Tertre and the marked uptick in quality has been evident. Today we are pleased to offer the latest release from this exciting estate.
Located at Riparbella, a village in the province of Pisa that is part of the Montescudaio DOC appellation, Caiarossa was founded relatively recently in 1998 by Flemish businessman Jan Theys, who reportedly invested between 4 to 5 million euros in the property that had been farmed biodynamically from the start. After running out of capital, he went looking for a partner who shared the same interest in natural vineyard management and found Eric Albada Jelgersma, owner of Château Giscours and Château du Tertre.
According to Alexander Van Beek, the general manager of Giscours and Château du Tertre, Eric "likes to buy properties that have much growth potential, whether they have been mismanaged or are in bad shape", and Caiarossa definitely showed tremendous potential, as Alexander relates:
"I was totally flabbergasted by the quality of the wines given that they are made from such young vines. The potential here is remarkable." - Alexander Van Beek
With the new ownership on board in 2004, wine scores gradually improved, their wines offer "great insight into the forward-looking trajectory and the solid quality record of this gem of an estate on the Tuscan Coast" (Monica Larner).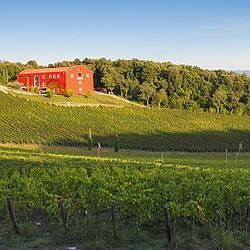 Product Name
Region
Qty
Score
Price

Tuscany
13
96 (JS)
HK$2,360.00

James Suckling (96)

A bouquet of berries, flowers and minerals, taking on some spice. Fascinating blend. Full-bodied, with plenty of pretty fruit and lightly chewy tannins. Sangiovese, Cabernet Franc, Merlot, Cabernet Sauvignon, Grenache, Syrah, Petit Verdot and Mourvedre.

More Info

Tuscany
1
96 (JS)
HK$1,895.00

James Suckling (96)

The nose immediately shows a fabulous contrast between riper mulberries and blackberry crumble and freshly ground herbs, citrus and incense. The palate shows much the same polish, carrying bright blue-fruit flavors across a bedrock of muscular tannins and driven acidity. This finishes long and very grainy yet succulent. A blend of merlot, cabernet franc, cabernet sauvignon, syrah, sangiovese, petit verdot and alicante. Drink in 2022.

More Info

Tuscany
1
97 (JS)
HK$2,540.00

James Suckling (97)

Very complex aromas of crushed berries, yet the fresh herbs, dried berries, sandalwood and Spanish cedar add complexity and brightness. Full-bodied with tannins that melt into the wine. Savory. Cabernet franc, merlot, syrah, cabernet sauvignon and petit verdot with a touch of alicante and sangiovese. Better after 2021.

More Info

Tuscany
1
96 (JS)
HK$2,905.00

James Suckling (96)

This is extremely perfumed with violets, sage, lavender, currants and berries. Fresh and vivid. Medium-to full-bodied with super refined tannins and fruit. So subtle and refined. This is really long and gorgeous. Goes on for minutes. A change in style from past vintages and I like it. 30% syrah, 30% cabernet franc, 16% cabernet sauvignon, 12% merlot 7% petit verdot and 5% sangiovese. From organically grown grapes. So hard not to drink now, but better after 2023.

More Info

Tuscany
2
-
HK$3,095.00
Tuscany
2
-
HK$3,225.00
Tuscany
2
-
HK$3,375.00