Domaine de l'Arlot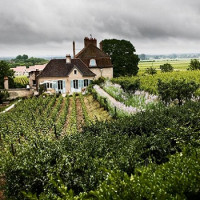 About Domaine de l'Arlot
Technically created as recently as 1987 following the acquisition of all current holdings by AXA-Millésimes, the addition of Domaine de l'Arlot was one of the greatest decisions made by the giant company, whose small but impressive portfolio delivers consistently excellent wines under the auspice of the general head of vinous affairs Christian Seely.
More specifically, Domaine de l'Arlot has found its groove following the appointment of tremendously talented Géraldine Godot, who has more than once made bold decisions in both vineyards and wineries to produce the absolute best wines she deems possible. Having replaced Jacques Desvauges, now of Clos de Tart, Godot was given the mandate to make sweeping stylistic manoeuvres such as 100% whole-bunch fermentation in some cuvées and 100% destemmed in others.
Currently composed of 14 hectares, the original Domaine de l'Arlot covered three monopoles. Their Nuits-Saint-Georges 1er Cru "Clos des Forêts Saint-Georges" is generally considered to be not only this Domaine's top bottling but one of the most consistently thrilling wines in Nuits-St-Georges.
Year
Wine
Region
Format
Qty
Score
Price
Wishlist

Arlot Nuits Saint Georges Gerbotte Blanc 2019 (6x75cl)

HK$3,200.00

2019
Burgundy
6x75cl
3
-
HK$3,200.00

Arlot Romanee-Saint-Vivant Grand Cru 2018 (1x75cl)

HK$4,965.00

2018
Burgundy
1x75cl
2
-
HK$4,965.00

L'Arlot Nuits-Saint-Georges 1er Cru Clos de l'Arlot Blanc 2018 (6x75cl)

HK$4,900.00

2018
Burgundy
6x75cl
1
-
HK$4,900.00

L'Arlot Nuits-Saint-Georges 1er Cru Clos des Forets Saint-Georges 2017 (12x37.5cl)

HK$4,499.00

2017
Burgundy
12x37.5cl
1
93 (WA)

Read Review/Description

HK$4,499.00

L'Arlot Nuits-Saint-Georges 1er Cru Clos des Forets Saint-Georges 2017 (6x75cl)

HK$4,798.00

2017
Burgundy
6x75cl
1
93 (WA)

Read Review/Description

HK$4,798.00

L'Arlot Nuits-Saint-Georges 1er Cru Clos des Forets Saint-Georges 2020 (6x75cl)

2020
Burgundy
6x75cl
-
90-94 (Jasper Morris Inside Burgundy)

Read Review/Description

HK$3,650 - HK$4,370

L'Arlot Nuits-Saint-Georges 1er Cru Clos l'Arlot 2020 (6x75cl)

2020
Burgundy
6x75cl
-
91-93 (Jasper Morris Inside Burgundy)

Read Review/Description

HK$4,485 - HK$5,385