Domaine Francois Lamarche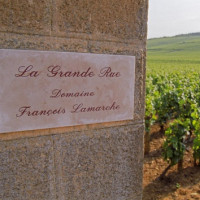 About Domaine Francoir Lamarche
Nicole and Natalie Lamarche have brought Domaine François Lamarche back to its former glory. The domaine has gone from strength to strength in recent years and this hasn't gone unnoticed by leading Burgundy critic Neal Martin as he states that this is among his favourite Burgundy Domaines:
"Nicole Lamarche is one of my favourite winemakers in Vosne-Romanée and she has been instrumental in the revival of this once under-performing domaine, more famous for its propitious monopole of La Grande Rue than for the wines themselves. This is no longer the case and they have improved remarkably in recent years, typically refined and elegant, less powerful wines than their peers, pure and generally approachable earlier than others" - Neal Martin, Vinous
The Vineyards and the Wines
Most of the domaine's holdings are in the village of Vosne-Romanée. The jewel in the crown is the monopole vineyard of La Grande Rue, a 1.65 ha which is the 2nd smallest Grand Cru vineyard in the Cote d'Or after La Romanée. La Grand Rue neighbours the fabled vineyards of Romanée-Conti, La Tâche and La Romanée. In terms of Burgundy vineyard locations, it doesn't get more illustrious than this.
Year
Wine
Region
Format
Qty
Score
Price
Wishlist

Francois Lamarche Clos de Vougeot Grand Cru 1985 (4x75cl)

HK$16,770.00

1985
Burgundy
4x75cl
1
-
HK$16,770.00

Francois Lamarche Clos de Vougeot Grand Cru 2012 (6x75cl)

HK$7,370.00

2012
Burgundy
6x75cl
1
95 (TA)

Read Review/Description

HK$7,370.00

Francois Lamarche Clos de Vougeot Grand Cru 2019 (6x75cl)

HK$9,175.00

2019
Burgundy
6x75cl
1
-
HK$9,175.00

Francois Lamarche Grands-Echezeaux Grand Cru 2012 (6x75cl)

HK$16,115.00

2012
Burgundy
6x75cl
1
95 (TA)

Read Review/Description

HK$16,115.00

Francois Lamarche Grands-Echezeaux Grand Cru 2020 (3x75cl)

2020
Burgundy
3x75cl
-
94-96 (JMO)

Read Review/Description

HK$7,995 - HK$9,590

Francois Lamarche La Grande Rue Grand Cru 1981 (2x75cl)

HK$12,430.00

1981
Burgundy
2x75cl
1
-
HK$12,430.00

Francois Lamarche La Grande Rue Grand Cru 1990 (1x75cl)

HK$6,715.00

1990
Burgundy
1x75cl
1
-
HK$6,715.00

Francois Lamarche La Grande Rue Grand Cru 2008 (1x75cl)

HK$5,290.00

2008
Burgundy
1x75cl
1
92 (BH)

Read Review/Description

HK$5,290.00

Francois Lamarche La Grande Rue Grand Cru 2009 (12x75cl)

HK$61,445.00

2009
Burgundy
12x75cl
1
-
HK$61,445.00

Francois Lamarche La Grande Rue Grand Cru 2009 (1x75cl)

HK$5,665.00

2009
Burgundy
1x75cl
1
-
HK$5,665.00

Francois Lamarche La Grande Rue Grand Cru 2009 (6x75cl)

HK$29,385.00

2009
Burgundy
6x75cl
1
-
HK$29,385.00

Francois Lamarche La Grande Rue Grand Cru 2015 (6x75cl)

HK$34,990.00

2015
Burgundy
6x75cl
1
93 (WA)

Read Review/Description

HK$34,990.00

Francois Lamarche La Grande Rue Grand Cru 2016 (6x75cl)

HK$27,585.00

2016
Burgundy
6x75cl
2
92-94 (WA)

Read Review/Description

HK$27,585.00

Francois Lamarche La Grande Rue Grand Cru 2017 (6x75cl)

HK$25,405.00

2017
Burgundy
6x75cl
1
-
HK$25,405.00

Francois Lamarche La Grande Rue Grand Cru 2019 (3x75cl)

HK$18,000.00

2019
Burgundy
3x75cl
1
94-98 (IB)

Read Review/Description

HK$18,000.00

Francois Lamarche La Grande Rue Grand Cru 2020 (3x75cl)

2020
Burgundy
3x75cl
1
97 (TA)

Read Review/Description

HK$14,760 - HK$17,710

Francois Lamarche Vosne Romanee 1er Cru Les Suchots 2009 (6x75cl)

HK$12,370.00

2009
Burgundy
6x75cl
1
-
HK$12,370.00

Francois Lamarche Vosne-Romanee 1985 (3x75cl)

HK$14,295.00

1985
Burgundy
3x75cl
1
-
HK$14,295.00

Francois Lamarche Vosne-Romanee 1er Cru La Croix Rameau 2020 (6x75cl)

2020
Burgundy
6x75cl
-
90-92 (BH)

Read Review/Description

HK$9,175 - HK$11,010

Francois Lamarche Vosne-Romanee 1er Cru Les Malconsorts 2009 (6x75cl)

HK$17,455.00

2009
Burgundy
6x75cl
1
-
HK$17,455.00