Château Mouton Rothschild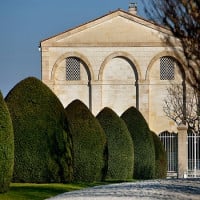 About Château Mouton Rothschild
A name which requires little introduction to even those with a passing interest in fine wine, Château Mouton Rothschild is perhaps most famous for being the sole property to ascend the precarious ladder of the 1855 Classification and gain promotion to the promised land of First Growth status.
Located one of the finest gravel beds in Pauillac, the Grand Plateau de Mouton, Mouton Rothschild is often differentiated from its appellation peers, Lafite Rothschild and Latour, as the most flamboyant and sensual of the trinity. There is an undeniable sense of joie-de-vivre surrounding this hallowed estate, extending to its famous labels designed by the world's finest artists from Picasso to Warhol.
Even the winery, a vast and imposing shimmering white temple to the vinous arts was designed sv by the beloved Baroness Philippine de Rothschild to feel like a theatre with sweeping corridors and ram's headlight fixtures.
One of only two Châteaux to remain in the hands of the same family since 1855, this estate has long been a figurehead for how Bordeaux is perceived around the world and how it conducts its business. The first producer in the region to bottle the entirety of its production itself, it is thought that the initially denied First Growth status was due to politics of ownership and certainly not as a result of quality nor renown.
The Mouton vineyard is older than most in Bordeaux, with vines averaging 50 years, and some going back over 100! It is one of the world's truly 'great' wine estates.
Year
Wine
Region
Format
Qty
Score
Price
Wishlist

Aile d'Argent 1995 (6x75cl)

HK$9,710.00

1995
Bordeaux
6x75cl
1
-
HK$9,710.00

Aile d'Argent 2018 (6x75cl)

HK$5,550.00

2018
Bordeaux
6x75cl
3
93-95 (WA)

Read Review/Description

HK$5,550.00

Aile d'Argent 2020 (6x75cl)

HK$6,230.00

2020
Bordeaux
6x75cl
1
95-96 (JS)

Read Review/Description

HK$6,230.00

Aile d'Argent 2021 (6x75cl)

2021
Bordeaux
6x75cl
-
96 (JA)

Read Review/Description

HK$4,470 - HK$5,370

Le Petit Mouton 2005 (6x75cl)

HK$14,510.00

2005
Bordeaux
6x75cl
5
18 (JR)

Read Review/Description

HK$14,510.00

Le Petit Mouton 2009 (6x75cl)

HK$13,710.00

2009
Bordeaux
6x75cl
2
94 (JS)

Read Review/Description

HK$13,710.00

Le Petit Mouton 2015 (6x75cl)

HK$18,000.00

2015
Bordeaux
6x75cl
1
93-94 (JS)

Read Review/Description

HK$18,000.00

Le Petit Mouton 2016 (3x75cl)

HK$7,115.00

2016
Bordeaux
3x75cl
1
95-96 (JS)

Read Review/Description

HK$7,115.00

Le Petit Mouton 2016 (6x75cl)

HK$17,760.00

2016
Bordeaux
6x75cl
1
95-96 (JS)

Read Review/Description

HK$17,760.00

Le Petit Mouton 2017 (6x75cl)

HK$13,580.00

2017
Bordeaux
6x75cl
4
93-94 (JS)

Read Review/Description

HK$13,580.00

Le Petit Mouton 2018 (3x75cl)

HK$6,540.00

2018
Bordeaux
3x75cl
1
97-98 (JS)

Read Review/Description

HK$6,540.00

Le Petit Mouton 2018 (6x75cl)

HK$16,800.00

2018
Bordeaux
6x75cl
1
97-98 (JS)

Read Review/Description

HK$16,800.00

Le Petit Mouton 2019 (6x75cl)

HK$12,640.00

2019
Bordeaux
6x75cl
1
96-97 (JS)

Read Review/Description

HK$12,640.00

Le Petit Mouton 2020 (6x75cl)

HK$13,050.00

2020
Bordeaux
6x75cl
1
97-98 (JS)

Read Review/Description

HK$13,050.00

Le Petit Mouton 2021 (3x75cl)

2021
Bordeaux
3x75cl
-
91-93 (VN (AG))

Read Review/Description

HK$5,205 - HK$6,245

Le Petit Mouton 2021 (6x75cl)

2021
Bordeaux
6x75cl
-
91-93 (VN (AG))

Read Review/Description

HK$10,340 - HK$12,400

Mouton Rothschild 1924 (1x75cl)

HK$22,315.00

1924
Bordeaux
1x75cl
1
-
HK$22,315.00

Mouton Rothschild 1936 (1x75cl)

HK$15,325.00

1936
Bordeaux
1x75cl
1
-
HK$15,325.00

Mouton Rothschild 1945 (1x75cl)

HK$116,815.00

1945
Bordeaux
1x75cl
3
100 (WA)

Read Review/Description

HK$116,815.00

Mouton Rothschild 1946 (1x75cl)

HK$33,090.00

1946
Bordeaux
1x75cl
1
-
HK$33,090.00

Mouton Rothschild 1948 (1x75cl)

HK$28,795.00

1948
Bordeaux
1x75cl
1
-
HK$28,795.00

Mouton Rothschild 1950 (1x75cl)

HK$13,975.00

1950
Bordeaux
1x75cl
1
-
HK$13,975.00

Mouton Rothschild 1955 (1x75cl)

HK$9,460.00

1955
Bordeaux
1x75cl
1
97 (WA)

Read Review/Description

HK$9,460.00

Mouton Rothschild 1957 (1x75cl)

HK$8,680.00

1957
Bordeaux
1x75cl
1
86
HK$8,680.00

Mouton Rothschild 1958 (1x75cl)

HK$10,600.00

1958
Bordeaux
1x75cl
1
-
HK$10,600.00

Mouton Rothschild 1961 (1x75cl)

HK$32,170.00

1961
Bordeaux
1x75cl
1
98 (WA)

Read Review/Description

HK$32,170.00

Mouton Rothschild 1963 (1x300cl)

HK$103,950.00

1963
Bordeaux
1x300cl
1
-
HK$103,950.00

Mouton Rothschild 1965 (1x300cl)

HK$84,590.00

1965
Bordeaux
1x300cl
1
50 (WA)

Read Review/Description

HK$84,590.00

Mouton Rothschild 1966 (2x75cl)

HK$10,730.00

1966
Bordeaux
2x75cl
1
90 (WA)

Read Review/Description

HK$10,730.00

Mouton Rothschild 1968 (1x75cl)

HK$3,615.00

1968
Bordeaux
1x75cl
1
-
HK$3,615.00