Pichon Baron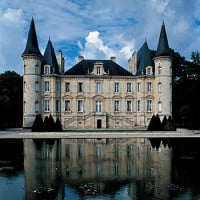 About Pichon-Longueville Baron
The neo-classical turrets of Château Longueville au Baron de Pichon-Longueville are amongst the most iconic images of Bordelaise grandeur in the entire region. For many years, Pichon existed as one exceedingly large property, consisting of some 50 hectares of stunning terroir in the legendary commune of Pauillac.
Death and marriage, the two great catalysts for change in 19th century France, resulted in the split we see today between this great property, and its sister Pichon Lalande.
Remarkably for two estates which were once one, their styles are dramatically individual - at least in the modern era. Lalande quickly garnered a reputation of feminine elegance rightly or wrongly, but most likely in its early years as a result of being under female ownership, and has undoubtedly pursued this identity in its wines of recent years. Baron, conversely, was considered the more overtly powerful and structured of the two.
The slew of excellent reviews from the world's leading critics for multiple vintages of this estate repeatedly marvel at the remarkable power of the tannins, and the breath-taking concentration always judged to perfection. Quality has certainly increased dramatically at this château, largely due to a ruthless reduction in the quantity of Grand Vin produced.
The team at Pichon Baron decided to focus almost exclusively on the very best site available to this "Super Second", a gravel plateau opposite Château Latour, for their first wine - the rest, and the vast majority, is consigned to two very impressive second wines.