Pierre Usseglio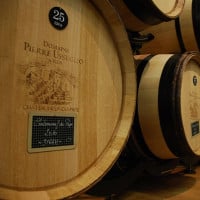 About Pierre Usseglio
A touch of Italy deep in the heart of Southern France, Francis Usseglio founded what we now know as Domaine Pierre Usseglio in 1948 having moved to the Rhône from his native Italy in 1931.
It is his son Pierre who gave his name to the current estate, as Francis' other son Raymond founded his own Usseglio Châteauneuf-du-Pape label upon their father's death – the addition of the brothers' first names to their respective Domaines certainly aids in the avoidance of confusion.
Viniculture
24 hectares spread across 17 different parcels of Châteauneuf-du-Pape constitute the extensive holdings of Domaine Pierre Usseglio, and they are amongst the very greatest in the Southern Rhône. Grenache remains the undisputed focus of the Usseglios, with up to 80% of their entire vineyards planted with the varietal. True masters of the varietal, their two prestige cuvées (Réserve des Deux Frères and Cuvée de mon Aïeul) are pure Grenache expressions.
Cuvée de mon Aïeul is a sensational wine and the stuff of dreams for those with a love for powerfully classic and complex Châteauneuf-du-Pape. Sourced from vines with an average age of 95 years and extremely low yielding, it was originally blended with a dash of 5% Syrah in the late 1990s. Quickly doing away with this to create a pure Grenache cuvée, brothers Jean-Pierre and Thierry confined the vineyards from which the fruit for this wine could be sourced to three specific plots.
Their most exceptional wine, Châteauneuf du Pape "Not For You!" is a cuvée sourced entirely from vines over a century old in the lieu-dit of Les Grandes Serres. A mythical wine made from pure Grenache, this wine is a unicorn that has only been released once in history, with a mere 300 bottles produced.