Bordeaux 2020 En Primeur is here
Almost every year a sense of excitement sweeps across the wine loving world around May/June, why? Because the world's love affair with French claret takes centre stage and we all eagerly await to hear about the performance of last years' vintage.
The Bordeaux 2020 En Primeur campaign is back and we're creeping closer to the edges of our seats waiting to hear any news on tastings and new releases.
The good news is you don't have to wait in such discomfort as we'll update you every step of the way with all the latest news and reports coming out of Bordeaux or the rest of the world of wine.
So far, few critics have released any updates on their thoughts on Bordeaux 2020 En Primeur, though James Suckling was the first to declare the 2020 vintage as "excellent" after tasting some of the barrel samples in Hong Kong recently. So, with limited resources available and a global pandemic stopping us from making our own judgements, for now at least, we'll start by reflecting back on last year's vintage notes.
On a final note, if you don't want to miss an offer as the releases come thick and fast, then please update your preferences in your account. If you don't have an account with us, then create one for FREE today and take advantage of our incredible benefits - 30 days FREE storage on purchases, FREE delivery on orders over £500, online portfolio management platform, bidding on 1,000s of wines, and much more.
Cru's Bordeaux 2020 Vintage Notes
The 2020 growing season followed a similar pattern to 2016, 2018 and 2019. A wet spring was followed by a dry, hot summer concluding with a pleasantly warm and dry harvest.
The biggest news of 2020 in terms of viticulture is the significantly reduced harvest compared to both 2018 and 2019. Low yields are often a result of poor fruit set during the beginning of the growing season, but this wasn't the case in 2020 - a combination of factors hammered the Bordeaux 2020 harvest.
Firstly, the ever-present threat of mildew in a humid region such as Bordeaux reared its ugly head early in the season. A particularly vicious bout caused both a drop in berry size and a reduction in sugar content.
Secondly, the unbroken 54 days of drought from June to August placed the vines under immense water stress. Whilst a certain amount of water stress is vital in Bordeaux, with the drainage provided by the deep gravel banks of the Médoc one of the region's greatest assets, totally parched soils affected the flowering and veraison. This lack of water has been subsequently reflected in the slender production volume.
Lastly, it was a scorching heatwave in mid-September that took a final toll on the berries and juice. With soaring temperatures, juice evaporated during the vinification process and ultimately reduced volumes even further.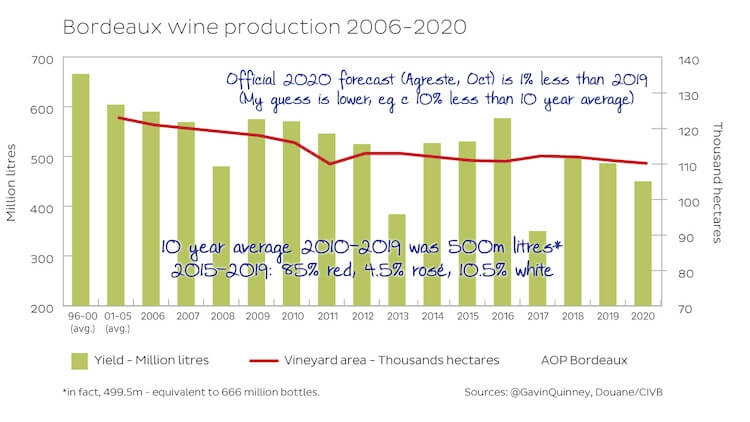 Good news for this year's Bordeaux 2020 En Primeur campaign
Climatic conditions had an adverse effect on quantity alone, the quality of wines from the region looks to be outstanding yet again - every bit the worthy successor to the lush 2018s and the impeccably structured 2019s. As grapes grow sweeter and ultimately thrive in adverse conditions, perhaps the same holds true for Bordeaux's great winemakers!
We are still in the very early stages of critic reporting on Bordeaux 2020 En Primeur, but indications are most encouraging so far.
A vintage for collectors and investors
Legendary "Super Consultant" Michel Rolland believes that 2018, 2019 and 2020 represent a modern trilogy of outstanding vintages in Bordeaux. Akin to how critics and collectors describe 1988, 1989 and 1990, we believe that the narrative of a "Trilogy of Excellence" for these three vintages will be a highly compelling one. Collectors and investors should take note.
"We have a reputation in Bordeaux to say the last vintage is the best one...But we did 2018, 2019 and now 2020 … after we did our tastings in the Spring I can say it is a really great vintage. It is different than 2019 with more freshness, more tension, more balance. It's a good one." - Michel Rolland
This initial impression is shared by leading critic James Suckling too. Having released his first batch of in-barrel scores, together with commentary on how he sees the 2020 vintage, Suckling declares Bordeaux 2020 "excellent" overall whilst comparing the wines favourably in terms of quality to both 2019 and 2018.
"After tasting more than 400 barrel samples from the 2020 vintage, I can 100% confirm that it is another great year for Bordeaux. The 2020 vintage marks a rare trilogy of excellent vintages that produced wines at the same or very close quality level across the board from great named chateaux to lesser-known estates." - James Suckling
Over the coming weeks, the team at Cru will endeavour to update this report and inform buyers of the overall picture of Bordeaux 2020 En Primeur as promptly as possible. This includes issuing alerts on newly published critic reports, undervalued gems and promising long-term investment options. Bordeaux 2020 will no doubt be a hugely exciting En Primeur campaign with a great number of sensational wines.