Domaine Georges Noellat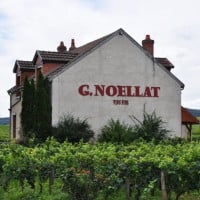 About Domaine Georges Noellat
Only in his early 20s, Maxime Cheurlin was marked for stardom from his very first vintage in 2010 and has achieved considerable success already. Taking over the Domaine from his grandmother, situated next door to Sylvain Cathiard, the wunderkind produces complex and delicate wines.
Maxime is the nephew of the Jayer family and a cousin of Guillaume Rouget (son of Emmanuel Rouget) who trained with legendary Henri Jayer. Maxime worked at Rouget in 2009 and Gros Frere & Soeur in Vosne Romanee in 2008. Maxime's style is modelled somewhat after Rouget's, with a focus on clarity and a pronounced influence of new oak.
Viniculture
De-stemming completely the grapes (except for 20% for the Echezeaux), he intends to give the wines an outstanding purity. His wines are elegant yet exhibit good power and poise with a good progression of quality and style from the villages-level up to the Grands Crus. The character of the vintage comes through as well with the wines tasting surprising forward from the barrel. These will age well in cellar but also pleasantly enjoyable at every stage in their development.
Year
Wine
Region
Format
Qty
Score
Price
Wishlist

George Noellat Nuits-Saint-Georges 1er Cru Les Boudots 2010 (3x150cl)

HK$9,430.00

2010
Burgundy
3x150cl
1
-
HK$9,430.00

George Noellat Nuits-Saint-Georges 1er Cru Les Boudots 2019 (6x75cl)

HK$8,970.00

2019
Burgundy
6x75cl
1
91-93 (VN)

Read Review/Description

HK$8,970.00

Georges Noellat Echezeaux Grand Cru 2017 (12x75cl)

HK$36,880.00

2017
Burgundy
12x75cl
1
92-94 (VN)

Read Review/Description

HK$36,880.00

Georges Noellat Echezeaux Grand Cru 2019 (1x75cl)

HK$4,335.00

2019
Burgundy
1x75cl
1
93-95 (VN)

Read Review/Description

HK$4,335.00

Georges Noellat Grands-Echezeaux Grand Cru 1959 (1x75cl)

HK$9,770.00

1959
Burgundy
1x75cl
6
-
HK$9,770.00

Georges Noellat Nuits-Saint-Georges 1er Cru Aux Cras 2016 (12x75cl)

HK$13,360.00

2016
Burgundy
12x75cl
1
91-93 (WA)

Read Review/Description

HK$13,360.00

Georges Noellat Nuits-Saint-Georges 2019 (6x75cl)

HK$3,370.00

2019
Burgundy
6x75cl
5
-
HK$3,370.00

Georges Noellat Vosne-Romanee 1er Cru Les Beaux Monts 2017 (1x150cl)

HK$4,295.00

2017
Burgundy
1x150cl
3
92-94 (VN (NM))

Read Review/Description

HK$4,295.00

Georges Noellat Vosne-Romanee 1er Cru Les Beaux Monts 2018 (1x300cl)

HK$8,610.00

2018
Burgundy
1x300cl
1
93-95 (VN)

Read Review/Description

HK$8,610.00

Georges Noellat Vosne-Romanee 1er Cru Les Beaux Monts 2018 (3x75cl)

HK$5,760.00

2018
Burgundy
3x75cl
1
93-95 (VN)

Read Review/Description

HK$5,760.00

Georges Noellat Vosne-Romanee 1er Cru Les Beaux Monts 2019 (1x150cl)

HK$5,360.00

2019
Burgundy
1x150cl
1
93-95 (VN)

Read Review/Description

HK$5,360.00

Georges Noellat Vosne-Romanee 1er Cru Les Beaux Monts 2019 (3x75cl)

HK$6,735.00

2019
Burgundy
3x75cl
2
93-95 (VN)

Read Review/Description

HK$6,735.00

Georges Noellat Vosne-Romanee 1er Cru Les Beaux Monts 2019 (6x75cl)

HK$13,255.00

2019
Burgundy
6x75cl
2
93-95 (VN)

Read Review/Description

HK$13,255.00

Georges Noellat Vosne-Romanee 1er Cru Les Chaumes 2019 (6x75cl)

HK$8,420.00

2019
Burgundy
6x75cl
2
92-94 (VN)

Read Review/Description

HK$8,420.00