Marcarini
About Marcarini
Found in the heart of La Morra some 50 kilometres Southeast of Turin, Marcarini is one of the most well-loved Barolo producers around, by both critics and consumers alike. The traditional style and excellent vineyard holdings in the La Morra sub-region produce wines that are long-lived and classic, slightly less strict in style than wines coming from more easterly vineyards.
With a history dating back to the mid-1800s with the founding of the current winery by Giuseppe Tarditi in the village of La Morra, this estate is today run by the sixth and seventh generation of the Marcarini family in Manuel and his three children.
A family affair through and through, this 12-hectare estate remains a bastion of exceptional quality and incredible value in the hills of Piedmont. The pride and joy of the Marcarini family is without question their holding in the La Serra cru, which has previously featured in the Wine Spectator's Top 100 wines list.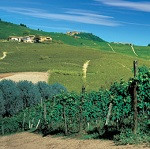 Product Name
Region
Qty
Score
Price
Piedmont
3
93+ (VN)
HK$2,290.00

Vinous (93+)

Deep red. Superripe but reticent aromas of redcurrant, gunflint, mocha and humus. Very sweet, full and dense but very closed today. Lovely insinuating vinosity. Quite classic, especially in light of the extreme ripeness of the '97 vintage. Offers more stuffing and dimension than La Serra. Finishes very long and subtle, with the thoroughly buffered but substantial tannins hitting the palate quite late.

More Info

Piedmont
2
92 (VN)
HK$3,205.00

Vinous (92)

The 2015 Barolo Brunate is powerful, dense and tightly wound. That should not be much of an issue, as the 2015 will be released later than normal, a path Marcarini will take gradually over the next few years with the goal of releasing the wine two years later than they had previously. Dark and hulking in the glass, the 2015 is clearly not in the mood to show all of its cards today. Iron, smoke, menthol, game, dried rose petal and soil tones give the Brunate its brooding, inward personality.

More Info

Piedmont
5
92 (VN)
HK$3,155.00

Vinous (92)

Marcarini's 2016 Barolo Brunate captures much of the mystique of this La Morra site in its beguiling aromatics. Deep, layered and so expressive, the 2016 has a lot to offer. Time in the glass brings out an exotic quality to the red toned fruit, with spice, menthol and floral overtones that linger. I would not be in a rush to open bottles.

More Info

Piedmont
1
-
HK$1,475.00
Piedmont
2
95 (JS)
HK$1,900.00

James Suckling (95)

Aromas of dried strawberries, orange peel and white truffles follow through to a full-bodied, compact and tight palate with fine, dusty tannins and an intense finish. Hints of chocolate and toffee at the end. Really complex. Drink after 2024.

More Info

Piedmont
6
91 (VN)
HK$1,760.00

Vinous (91)

The 2019 Barolo del Comune di La Morra is an attractive, entry-level Barolo that will drink well right out of the gate. Sweet dried cherry, spice, cedar, pipe tobacco, mint and orange zest lend notable aromatic presence to this understated, classy Barolo from Marcarini. Drink it over the next handful of years. This is a very pretty 2019.

More Info

Piedmont
1
97 (JS)
HK$2,380.00

James Suckling (97)

So much ash and dried-strawberry character. Burnt orange-peel undertones. Tar, too. It's full-bodied with chewy tannins and a flavorful finish. Lots of rose petals. This needs four or five years to open, but nicely integrated now. Try after 2024.

More Info

Piedmont
1
97 (JS)
HK$1,830.00

James Suckling (97)

So much ash and dried-strawberry character. Burnt orange-peel undertones. Tar, too. It's full-bodied with chewy tannins and a flavorful finish. Lots of rose petals. This needs four or five years to open, but nicely integrated now. Try after 2024.

More Info

Piedmont
1
93 (VN)
HK$2,500.00

Vinous (93)

The 2019 Barolo La Serra is a super-classic wine from this La Morra site. Bright acids, bracing minerals and striking aromatics - all La Serra signatures - come through loud and clear. Medium in body, with terrific freshness and plenty of verve, the 2019 is wonderfully expressive today. It will drink well with minimal cellaring.

More Info