Château Pavie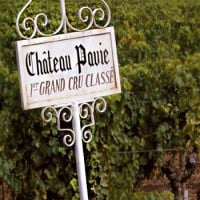 About Château Pavie
The single largest classified St-Émilion property also happens to be one of the very finest, putting paid somewhat to the (Burgundian?) notion that there is an inverse relationship between the size of vineyard and quality.
The slope of Pavie's 37 hectares under vine is just about as steep as any property in the whole of Bordeaux – dropping sharply from a lofty 85 meters down to 20 meters, with a mere 10% of their plantings on the level clay-limestone plateau. An enticing prospect for even the most vaguely vinous mind, and so it proved (with little doubt) to the Romans hundreds of years ago.
The modern origins of this legendary producer can be traced to a rather unglamorous founding as part of a 50-hectare négociant planting which saw Pavie clustered together with its current neighbour Pavie-Decesse. Eventually, the very same 37 hectares which constitute the property as we know it was sold to the Valette family in 1943.
Excellent wines were consistently produced throughout the family's tenure, but a change in their fortunes saw ever-decreasing investment take its toll on their wines – the arrival and subsequent purchase of the beleaguered Pavie by Gérard Perse in 1998 was as welcome as it was necessary.
An immensely driven and ambitious man, Perse's investment and unrelenting vision to create a St-Émilion of unrivalled breadth and power culminated in the incredible 2012 promotion to its current classification, the highest possible in the appellation.
The Winemaking and the wines
A late-ripening site by its very nature, the 60% Merlot, 26% Cabernet Franc and 14% Cabernet Sauvignon are often picked at extraordinarily low yields and equally elevated ripeness. This is an unapologetically lush and expressive wine, driven by almost overwhelming black fruit intensity. As such, Pavie has a complicated relationship with critics and buyers alike, especially with those favouring the more restrained and classical expression of Bordeaux. What cannot be denied, however, is the sheer majestic quality of the winemaking and terroir.
There is a second wine called Pavie Les Arômes de Pavie.