Castello dei Rampolla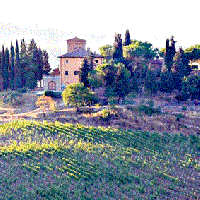 Castello dei Rampolla is located in Panzano's famous Conca d'Oro (golden basin) district. An amphitheatre of striking and pristine hillside vineyards, Wine Enthusiast calls this "one of Tuscany's most intriguingly unconventional estates". The noble di Napoli family inherited the estate as part of a wedding dowry back in 1739. With a long history of winemaking, Alceo di Napoli revolutionised the estate after he inherited it from his father in 1965.
The story of how the Sammarco came to be is a sad one. In 1980, Alceo and enologist Giacomo Tachis (the winemaker who contributed much to Super Tuscan legends such as Sassicaia, Solaia and Tignanello) decided to vinify Sangiovese and Cabernet for the first time at Rampolla. In 1982, when the wine was ready to release, tragedy struck when Alceo's son Marco died in a helicopter crash. So, as a small way to try and cope with his catastrophic loss, he named his new flagship 'Sammarco', in memory of his son. Luca di Napoli, Alceo's other son and current winemaker at Rampolla, has also honoured his brother's memory by continuing Alceo's hard work in making the Castello dei Rampolla Sammarco one of the most consistent and refined Super Tuscans in Italy.