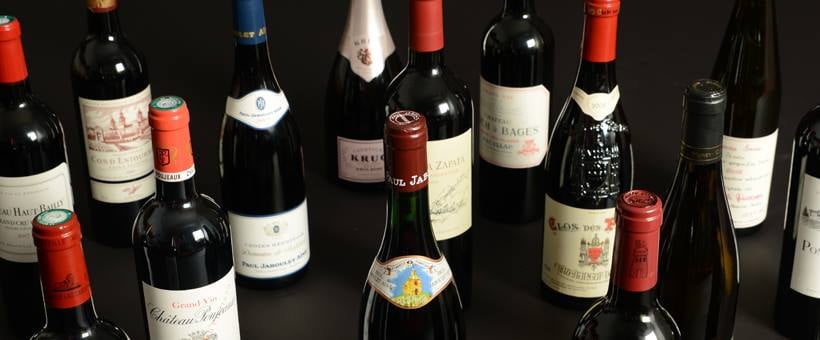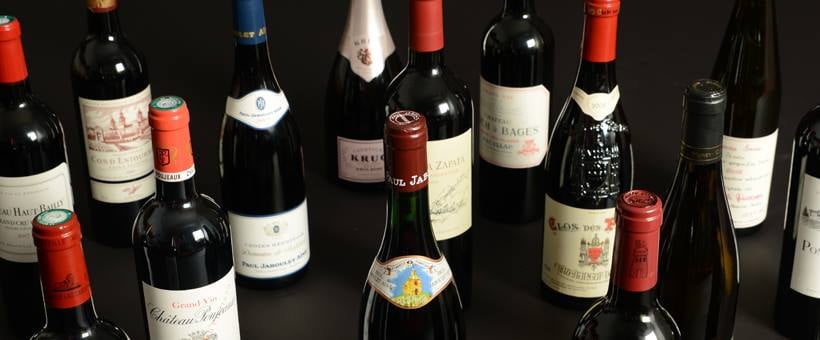 Review of 2021: A 'Breakout' Year
Fine Wine Rises to New Highs in 2021
In October 2020 we published a note predicting that 2021 would be a 'breakout' year for fine wine. Pleasingly for everyone who owns a wine portfolio, that is pretty much how it turned out!
2021 saw fine wine prices break above their previous 2018 market peak and go on to finish the year at an all-time high, propelled by strong investment flows and the removal of obstacles in world markets.
Fine wine is on track to outperform most major equity markets (and gold) for the year, which is impressive given how well equities (especially) have done in 2021: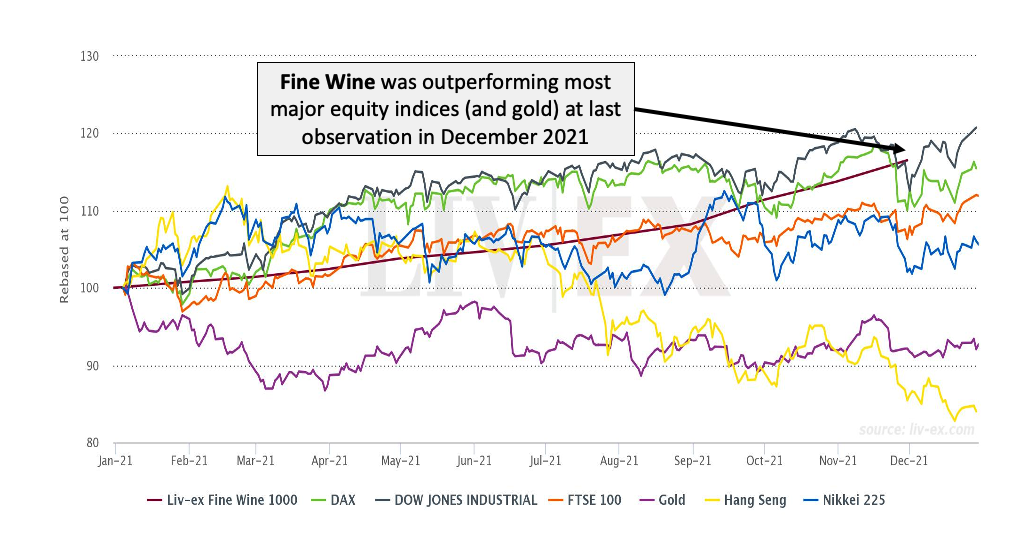 Overall, fine wine prices have risen by an impressive +16.5% (Liv-ex 1000 index) in 2021, making this year the strongest fine wine performance since 2016.
In terms of sectors, 2021 was a year in which Burgundy and Champagne stole the show, rising by +27.2% and +33.8% respectively.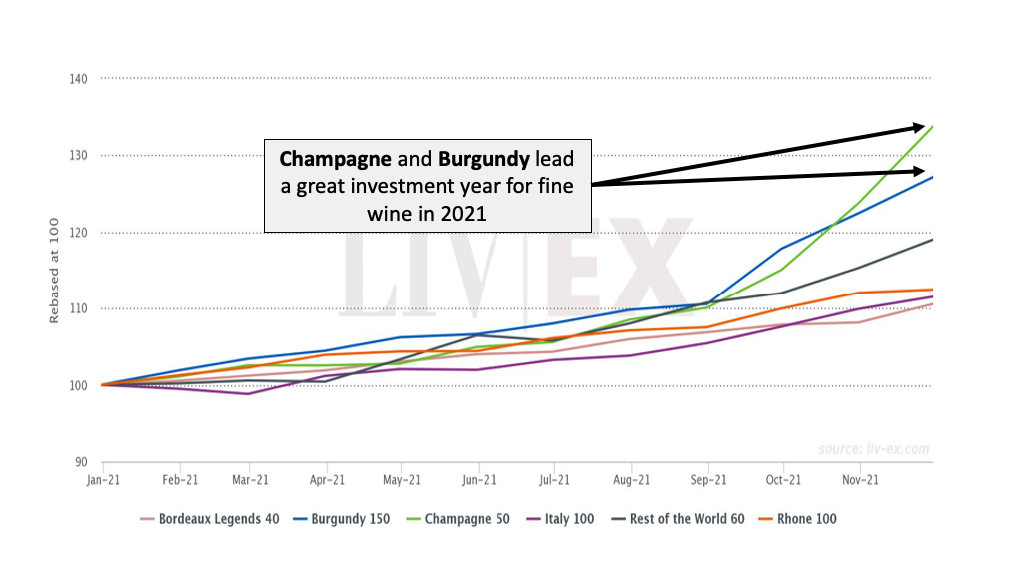 The biggest price gain of the year went to, not surprisingly, a top Champagne: Salon Le Mesnil 2002 – which rose an eye-watering +80.1%. Congratulations to the 51 Cru clients who have this wine in their portfolio!
---
The Market Continues to Mature
The fine wine market continued to mature, broaden, and deepen in 2021; with more products than ever trading and exchange volumes setting new records. The Liv-ex.com exchange recorded over 11,000 different wines (from over 4,000 different producers) trading on the secondary market this year – both new records since the exchange was launched in 2000.
Prices in 2021 were propelled higher by the now familiar combination of ultra-loose monetary policies, rising inflationary pressures, and investors buying up fixed supply physical assets as an inflation hedge.
Inflation protection was, we believe, especially important in driving demand for whole whisky casks in 2021.
Financial drivers were further supplemented by operational factors. US tariffs on EU imports were suspended in March and removed permanently (we hope!) in June. This brought US buyers back to the global market with a vengeance, just when the market was already gathering pace.
Then in the second half of the year we saw the emergence of serious supply-chain bottlenecks in areas like fine Champagne. This played a vital role in the dramatic performance we saw across most of the top end of Champagne as speculators positioned themselves ahead of the drinking marketplace.
The year ends in the market in robust health. Prices are up, volumes are up, and interest in fine wine as an alternative asset class (as well as a delicious consumable!) has never been higher.
---
Cru in 2021
2021 was something of a 'breakout' year for Cru also. Trading volumes on the Cru platform surged by over +50% to US$ 55 million (a company record), with our Asian operations once again leading the way.
Our private client reserves rose to over US$ 100 million (across our four warehouses in London, Bordeaux, Hong Kong and Singapore). Volumes of peer-to-peer trading reached record highs, as did the number of successful bids placed on our platform.
In 2021 Cru also incorporated (or opened) new offices in Beijing, Dubai and San Francisco; and we are actively recruiting for new account managers in these new (for us) territories.
Demand for our Managed Portfolios was so strong in 2021 that we had to close the product to new subscriptions in the middle of the year. We hope to be able to add new capacity in 2022.
But the success of our commercial year was thrown into sharp relief (and perspective) in November by the tragic loss of our colleague and friend Ben Collins in an accident in France. Ben's death, and the injuries sustained by two other Cru members, remind us of the fragility of life, of how for some there isn't a 'new year', and of the need to find joy and fulfilment in every single day, as Ben undoubtedly did. We all miss Ben, and 2021 will always be remembered with more than a little sadness by those who knew and loved him.
---
Outlook for 2022
Fine wine prices tend to run in lengthy cycles of 'consolidation' followed by 'breakout'. The 'breakout' phases (where prices move upwards steeply) tend to last for 2-3 years - and they see prices rise by an average of 71%.
We only started this new bullish new cycle in March 2021, and hence are only 9 months into the current 'breakout' phase. And thus far we have only recorded gains of +23.1%, against the average cycle gain of over +70%: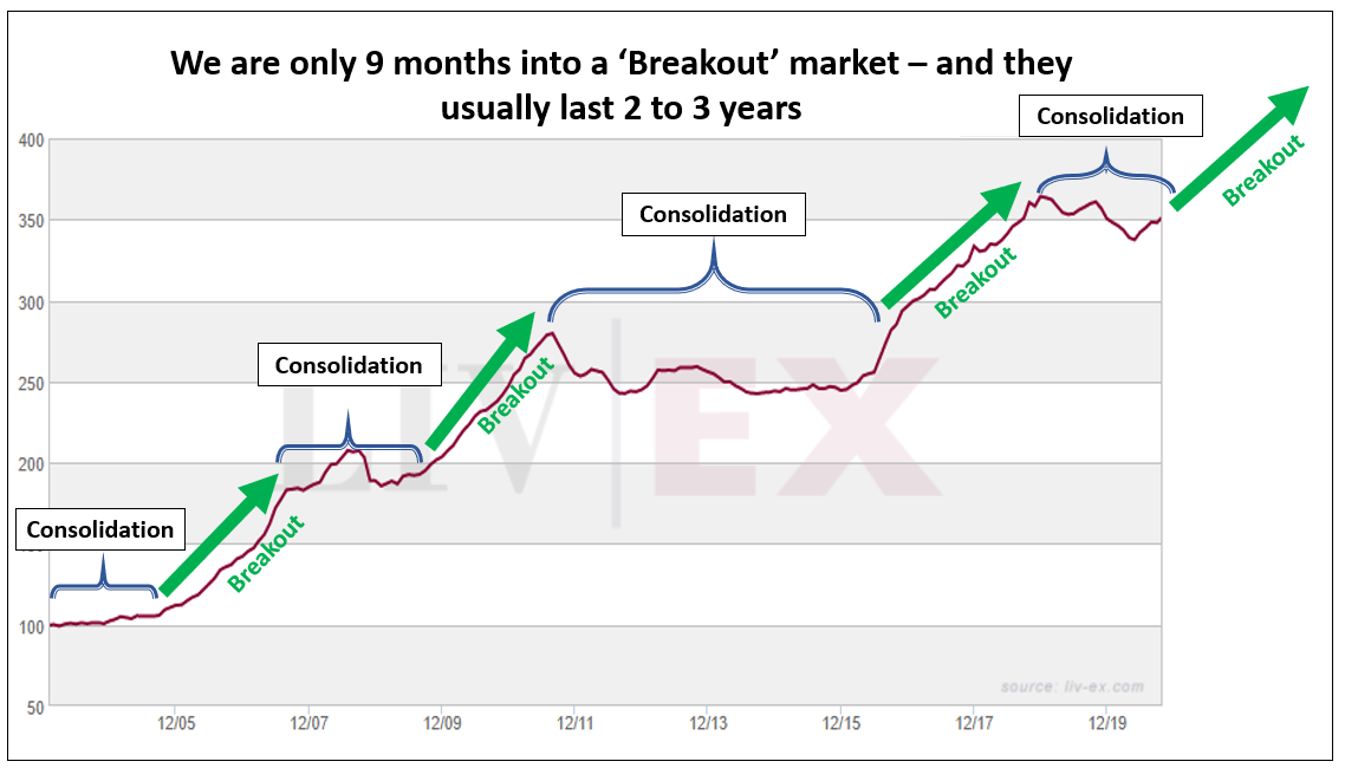 We therefore anticipate 2022 and 2023 seeing continued strong gains, with back-to-back annual gains of +25% for the next two years now a distinct possibility.
At Cru we will be very focused on bringing on stream of our new USA operation in 2022, which will benefit all our clients as we will source more American wines at better prices from our new entity in California. Our trading clients will also benefit from the increased liquidity that new American clients will bring to the platform.
As mentioned above, Cru will also be expanding its asset management capabilities. With annual returns above +60% for the first portfolios, it isn't a surprise that there is more demand for our Managed Portfolios than we can currently accommodate. We will be seeking to expand capacity in 2022.
We are also working on some exciting new developments to increase the security and liquidity of the market overall, embracing some new technologies that we believe can greatly assist in this area. So please look out for new developments in this area.
Above all, in 2022 we will be striving harder than ever to deserve your custom. We work tirelessly on our trading platform, our daily offers, our sourcing, our asset management tools, our customer service and our operations. But we can always improve and aim to do so next year.
We are all very grateful for the patience you have shown this year during some of the supply chain disruptions we have encountered. These frustrate us just as much as they do you, and we can only hope that the pressures on supply routes will abate in 2022.
It only remains for me, on behalf of all of the team at Cru, to thank you most sincerely for partnering with us this year. For those celebrating a New Year on 1st January, we wish you a very Happy New Year and all the very best for 2022!